Using our political power to pass safety legislation in New Jersey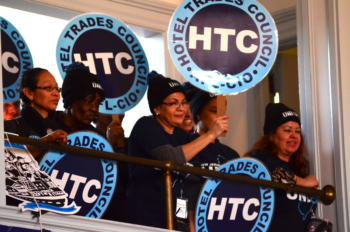 June 26, 2020 4:42 PM
After weeks of working with our allies in the NJ State Legislature and the Governor's Office, our Union is proud to announce that a new law has been signed in New Jersey that will protect hotel workers' safety and jobs in the era of COVID-19 and beyond. The law will require daily room cleans, EPA-certified cleaning agents, and minimum staffing at the front desk. This law is the very first of its kind anywhere in the country. It went into effect on Thursday, June 25, 2020.
Some Hotels Put Profits Ahead of Public Health
Without basic safety standards in place, the coronavirus presents some very serious health threats to both hotel workers and guests. Yet some hotels are looking to exploit the current crisis in order to cut corners, eliminate jobs, and grow their profits at the expense of the safety of workers and guests. Against the advice of leading health experts like the World Health Organization, a number of hotels are attempting to cut housekeeping staff and clean rooms less often and to eliminate front desk staff (the employees who are often the first responders within the hotel to a health crisis) among other things.
Our Union has been laser-focused on fighting back against these trends and negotiating protections and safety agreements for our members.
Law to Require Safety Standards for Hotel Workers Across New Jersey
In New Jersey, HTC responded head-on to this threat from the hotel industry by spearheading legislation that would cover all hotels in the state. The bill (known by its bill numbers S2479 in the State Senate and A4131 in the State Assembly) provides for four key areas of protection:
Daily room cleaning: The bill includes a requirement that hotels have guest rooms cleaned every day and between guest stays. This requirement is critical for hotel workers for two big reasons: 1) the World Health Organization (WHO) and several other health organizations have recommended daily room cleaning for the safety of workers and guests, and 2) as hotels begin to reopen, we need to make sure our jobs are protected from employers who are trying to cut back on labor costs. 

Minimum front desk staffing: Front desk staff play a critical role in guiding the hotel's response to guests who have health concerns or who may be infected with the coronavirus or other pathogens. The bill requires hotels to maintain 24/7 coverage of its front desk by at least 1 employee, and at least 1 additional employee for every 200 guest rooms. This critical measure also ensures that hotels are not able to take advantage of the coronavirus crisis to eliminate front desk positions, putting profits above health. 


Training: As the front-line defense against infection, hotel workers need to be trained in how to properly clean rooms, public areas and guest-touch points, and how to respond to questions or concerns guests have about health issues when they arise. The bill would require these types of trainings to be provided to workers at all NJ hotels. 

Cleaning-agents: The bill requires hotels to provide employees with cleaning agents that have been EPA-certified as effective against the coronavirus.
Hotel Workers Have a Seat at the Table in the New Jersey Statehouse
In 2010, our Union expanded its jurisdiction beyond New York City and became the union for hotel workers in New Jersey and the greater New York region. Over the last decade, the Union has executed a strategy to dramatically improve contract standards in the region. The first step was to create a master contract covering the entire region, known today as the Greater Regional Industry Wide Agreement (or "the GRIWA"). Second, was to increase our Union density — and in turn our bargaining power — by actively organizing in the state. And third, was to build our political power in the state by mobilizing our membership to get out the vote and fight for laws that will protect our jobs and standard of living. It is a result of those efforts, that we were able to get this legislation signed into law to protect hotel workers — union and non-union — across the state.
"This bill is a testament to the political work that HTC has done for the past several years leading up to this crisis, and it highlights our Union's ability to run an effective legislative campaign even in the most difficult of times," said Executive Vice President and General Counsel Rich Maroko. "With these basic requirements signed into law, we can now focus on hotel workers' other critical needs, like continued healthcare."
HTC worked closely on this bill with these NJ government officials:
Senate President Steve Sweeney: As an Ironworkers' union leader himself, Senator Sweeney understood the kind of threat that HTC was up against, and his office worked closely with our union in drafting the legislation and in ensuring its passage. 

Assembly Speaker Craig Coughlin: Speaker Coughlin stood up in favor of this legislation even when the hotel industry fought hard to defeat it. His ally, Assemblyman Robert Karabinchak signed up as the prime sponsor of the legislation and worked throughout the legislative process to ensure it passed.
Governor Phil Murphy: Governor Murphy directed his staff to work with HTC's legislative team, and after consulting directly with President Peter Ward, he signed the legislation into law on Thursday, June 11th.
Our Union Wins Safety Agreement with the Unionized Industry
The Union has also gone to the negotiating table over the course of this crisis to negotiate safety protocols for our membership.
In early March, the Union leadership secured the Coronavirus Protocol Agreement. The agreement was signed by 176 hotels across New York and New Jersey. It included a lot of the protections that found their way into the New Jersey legislation. These protections, designed to protect both workers and guests, include daily room cleaning, regular cleaning of public spaces, use of EPA registered disinfectants and employee training.
On June 19th, the Union extended the ground-breaking Coronavirus Safety Protocol Agreement with the unionized industry in New York and New Jersey. In addition to the protections in the original agreement, HTC's new safety agreement requires that hotels ensure guests wear masks and enforce social distancing. The agreement also requires the hotels to test employees' temperatures daily, pay for testing and provide additional paid time off (including up to 20 additional paid days off if an employee tests positive.) Not only must these hotels follow enhanced safety protocols, but union members are able to enforce the agreement without fear. If you want to read more about the agreement, click here.
Executive Vice President and General Counsel Rich Maroko explained "The agreement, as extended, meets the Union's three goals: first, to protect workers from infection while on the job, second, to contain any outbreaks through a robust testing protocol, and third, to help workers who contract COVID-19 by providing enough paid time off so that they don't have to worry about their income while they recover."

HTC President Peter Ward added, "I am extremely proud of the agreement we negotiated and the unprecedented protections it gives hotel workers and guests. But without legislation, like what we now have in New Jersey, they are limited to unionized hotels - which means that workers and guests at non-union hotels in New York have no assurance that any of these safety measures will be there to protect them."