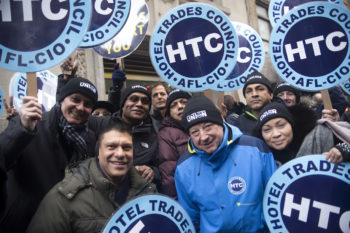 The Hotel and Gaming Trades Council, AFL-CIO ("Hotel Trades Council" or "HTC") is the union that is the sole and exclusive collective bargaining representative of nearly 40,000 non-managerial hotel, restaurant, racetrack, and gaming employees in New York City, Northern and Central New Jersey, and the Capital District of New York State. HTC represents about 75% of the hotel workers in New York City.
In hotels, the membership of our union is wall-to-wall (i.e., in all hotel departments), including: housekeeping, public space, dining room, banquet, room service, kitchen, stewarding, bar, mini-bar, audio-visual, front desk, reservations, PBX, bell and door services, concierge, night auditing, laundry, valet, engineering, maintenance, electrical, carpentry, painting, upholstery, business centers, night cleaning, health spas, security, garage, purchasing and receiving, and storeroom.
Since its founding in 1939, HTC has been uniquely successful in fostering multi-union cooperation through affiliation arrangements with a variety of local unions that provide our union with additional staff support and strength. So, a significant cross-section of the labor movement focuses its power on assisting our union to provide New York City hotel workers with the best contract, and contract enforcement, for hotel workers in the world. Eight local unions currently serve as affiliated service providers to HTC. Seven of these locals are also affiliated with other labor organizations, including the AFL-CIO, CtW, state and local labor federations, and various international unions.
The officers of HTC are directly elected democratically by the rank-and-file membership of the union. HTC is not an intermediate body as defined under the Labor-Management Reporting and Disclosure Act (LMRDA). Generally, HTC assigns its members (who are, first and foremost, members of HTC), at its discretion, secondary membership with one of these affiliated locals unions, and at its discretion, transfers its members between, into, or out of, affiliated locals. HTC (and not its affiliated locals) is the only certified and/or recognized collective bargaining agent of the employees it represents. Affiliated local union staff, when acting on behalf of HTC members, work under the control and direction of HTC officers and staff, and have no representational authority with regard to HTC shops except as authorized by HTC. HTC is the only union-signatory to all union contracts covering HTC members, and affiliated locals are not parties to, and have no independent rights under, those agreements.
HTC has authority to create its own subordinate locals, to accept new affiliated locals, or to terminate the affiliation of any local, and to reassign its members to a different affiliated local, or to no local, at its discretion, and at any time.
Affiliated locals have no governing role within HTC whatsoever. However, all affiliated locals are required to comply with the by-laws of HTC. Neither the local unions affiliated with HTC nor any of the other affiliated organizations to which they belong have authority of any kind over HTC. HTC is not a subordinate body of any other organization or entity. HTC answers only to its own members.