How Hotel Workers Got Eligibility and Access to the COVID-19 Vaccine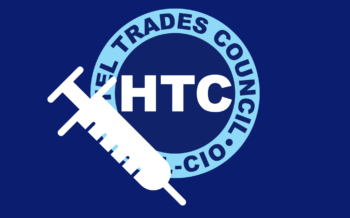 Updated: June 9, 2021 2:30PM
點擊此處閱讀中文版本。
In early March, our Union secured two major developments related to the COVID-19 vaccine. First, hotel workers became eligible to receive the vaccine in New York and in New Jersey. Second, our Union was able to begin efficiently distributing the vaccine to our New York City members through our own health centers.

Attaining eligibility and increasing access to the vaccine took tremendous effort. It required convincing the State to recognize what is clear: that hotel workers are essential front line workers who put themselves in danger of infection every time they show up to work. It required convincing the hotel industry, which is already in dire financial straits, to pay $2.5 million to reopen closed health centers and recall medical staff to distribute the vaccine. It required persuading the City to increase the number of scarce vaccines that go to our health centers to be used for hotel workers and their families.
While hotel workers deserved early access to the vaccine, if they hadn't been able to act collectively and magnify their voice through the megaphone of a union with a strong political program, they would not have gotten it.
Barriers to Getting the Vaccine
The Food and Drug Administration has now approved three vaccines. These vaccines, developed by Moderna, Pfizer, and Johnson & Johnson, have undergone rigorous testing and have proven to be extremely effective and safe. Without exaggeration, these vaccines will save millions of lives and end the pandemic. These vaccines are what will allow us to return to normalcy.
In December 2020, with the approval of these life-saving vaccines on the horizon, our Union's top priority quickly became getting the vaccine for our members. But we faced three major obstacles: (1) eligibility, (2) access, and (3) supply.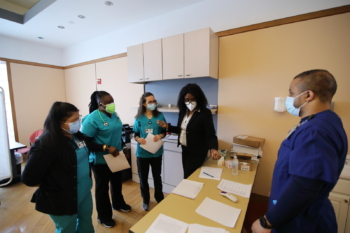 Winning Eligibility for Hotel Workers
Early on, with a nationwide shortage of vaccines, eligibility was limited to individuals who were particularly vulnerable to the disease (due to their age or underlying health conditions) and who worked in certain essential jobs (like health care workers or first responders). Our Union's goal was to have hotel workers among the eligible workers.
While the Centers for Disease Control and Prevention (CDC) has issued recommendations for which individuals to vaccinate first, ultimately each state had the power to decide how to distribute the limited supplies of vaccines.
So, starting back in December, our Union directed our attention to the states, initially with a letter from HTC President Rich Maroko making the case that hotel workers should be immediately eligible for the vaccine. His argument was straight to the point: our members are front line, essential workers who have been working throughout the pandemic – who often work in close contact with high-risk groups, including out-of-area travelers who are required to quarantine and other high risk populations like COVID positive patients, front line medical staff, and the homeless.
This advocacy campaign continued and intensified for the next several months
Finally, on February 26th, New York Governor Cuomo agreed to President Maroko's requests and announced that hotel workers would be eligible to receive the COVID-19 vaccine.
Soon thereafter, New Jersey Governor Murphy announced that hospitality workers who live or work in New Jersey will be able to receive the COVID-19 vaccine beginning on March 29th.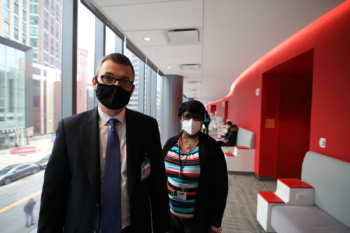 Better Access: Distributing the Vaccine at our NYC Health Centers
This spring, it was particularly hard to schedule an appointment to get the vaccine in New York City, where population density is high and, in the words of the Mayor, there was a "profound problem" of privileged New Yorkers accessing the vaccine at higher rates. Across the City, people like our members – working people and Black and Brown New Yorkers – were unable to access the vaccine, even when they were eligible.
To help solve this problem in New York City, we set up our own vaccine distribution system through our health centers to supplement the government's exist-ing system. The first week of March, President Maroko signed an agreement with the Hotel Association in which the industry agreed to pay approximately $2.5 million to reopen the Harlem and Brooklyn health centers for the singular purpose of distributing the vaccine and recalling any health care professionals needed to administer it.
With this agreement in place, we were able to vaccinate laid off members from hotels covered by the Industry-Wide Agreement and Division A contract and members at participating clubs as soon as we received vaccines from the City.
The Last Remaining Bottleneck: Limited Supply of Vaccines
The last barrier to vaccinating our membership was one that was beyond our control: the limited supply of vaccines. Available vaccines are distributed to health centers like ours by New York City's Department of Health. Mayor de Blasio and New York City officials were receptive to our requests for more vaccines, but the fact remained that in March, there were only so many doses available.
By the end of March, our Benefit Funds were able to get a steady supply of hundreds of vaccines each week. Using our Union's text and email alerts, by April 8th, we contacted over 29,000 members to offer them and their families the opportunity to get vaccinated at our health centers. As of the publication of the Hotel Voice, our health centers have distributed over 12,000 shots!
"I cannot overstate what a great job the staff at our health centers did dis-tributing and managing supplies of the vaccine," remarked HTC President Rich Maroko. "The operation was efficient, well organized, and the team of doctors, nurses and administrators went above and beyond."