Yotel's "Ground Control" Returns to the Job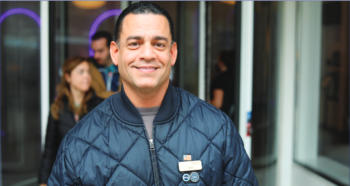 On October 17th, all of the members of Yotel's 'Ground Control' unit returned to work with their heads held high – and backpay in their pockets – after the hotel attempted to eliminate their jobs.
In 2016, in a separate dispute with our Union, Yotel management signed an agreement that 12 'Ground Control' workers were to be kept on payroll at any time. Accordingly, when the Yotel resumed business after shutting down due to the pandemic, the hotel should have called back the 'Ground Control' unit – but they refused.
Union Representatives took the case to the Office of the Impartial Chairperson. In April of 2021, the Impartial Chairperson ruled in favor of the Union, writing that the 2016 side agreement "could not be any clearer." Despite the unambiguous decision and the absolute right of the arbitrator to rule in this dispute, the hotel's attorneys at BakerHostetler – the same law firm that lost an attempt to vacate the arbitrator's award to extend health-care contributions for four months at the beginning of the pandemic and later that year tried to nullify the arbitrator's ruling awarding severance pay to thousands of hotel workers when layoffs lasted longer than six months – filed a petition on the hotel's behalf to vacate the arbitration award in federal court.
As expected, after long (and undoubtedly expensive) litigation, the Yotel lost their appeal. The hotel was required to bring back the then 12 Ground Control members and pay them for the time they were out of work, to the tune of $1.2 million.
"It feels amazing to walk back through Yotel's doors knowing our Union came out on top," remarked Ground Control Delegate Rene Gomez, who has worked at the hotel since it opened in 2011. "Words can't express the heartfelt appreciation that we the members have towards our Union and everyone involved, President Maroko, Amy Bokerman, and Joe Farelli, for their hard work towards this victory."