Union's Annual Writing Competition Is Here! Offering Cash Prizes to High School Students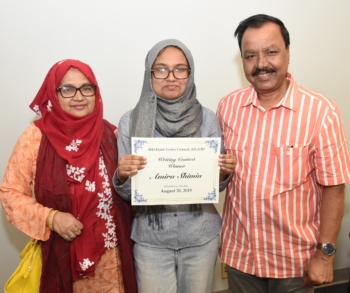 April 22, 2021 12:54 PM
For 18 years now, the Union's annual writing contest has offered high school students the opportunity to show their creative talents and have a chance to win cash prizes at the same time. In the competition's history, over 1,000 students have submitted entries and almost $200,000 in prizes have been awarded to the children of our members. This year is no exception, with the competition offering cash awards in two categories: Essay and Fiction/Non-Fiction Narrative.
Past competitions have resulted in some very poignant and imaginative communications. Students have written about their political opinions, their experiences with immigration, their appreciation of family and/or community, their participation in activism, the difference their parents' Union membership can make, and a wide range of other topics that have revealed their intelligence, originality and thoughtfulness. But that's not all. Students have also submitted compelling works of fiction that have been quite impressive.
The annual competition is the creation of Donald Rubin, the son of the founder and first president of HTC, Jay Rubin. The prize money was generously granted by the Shelley and Donald Rubin Foundation for many years and more recently Mr. Rubin's daughter, Laurel Rubin, has kindly provided the cash awards.
"I am happy that during this awful pandemic that has upended the lives of everyone the writing contest has been able to continue uninterrupted," Ms. Rubin said. "I hope children of your Union's members will strongly consider entering the 2021 competition."
All children of Hotel Trades Council members and Local 6 members employed in private clubs are eligible to participate in the writing contest. The only other eligibility requirement is that students must be in grades 10, 11 or 12 at the time of their entry into the competition.
A top prize of $3,000 is at stake in the 2021 writing contest, with multiple prizes of $1,500, $1,000 and $500 also being awarded. An impartial committee of journalists and/or educators will determine the winners.
Once again, there are two categories for students to enter this year: Essay and Fiction/Non-Fiction Narrative. Students may submit entries in both categories, but no more than one entry in each category. Also, each category must have submissions from a minimum of ten students in order for the prize money to be awarded.
It is possible for students to win prizes in both categories. Students may win prizes in multiple years, as long as they are in grades 10, 11 or 12 at the time they submit their entries.
How do students enter the competition?

Click here to read about the Rules and Entry Procedures.
IMPORTANT NOTE: The deadline for submitting entries is July 1, 2021.
We urge all members to tell their children about this contest and encourage them to participate. And we wish the best of luck to all students who submit entries!