Short-Term Registration Law Is A Major Win in NYC's Fight Against Illegal Hotels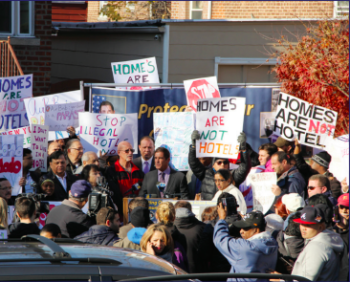 New York City's new Short-Term Registration Law – officially called Local Law 18 – is going into effect this year. The new law requires short-term rental hosts who use websites such as Airbnb and VRBO to register their apartments with the city – and prohibits the websites from processing payments for those who don't.

The result: a new database of residential rentals that will make it much easier for New York City officials to enforce the existing laws against short-term rentals and crack down on illegal hotels.
A LONG AND COMPLEX FIGHT
The passage of Local Law 18 represents a major victory in what is now a more than decade-long, citywide fight against illegal hotels. City officials estimate that as many as 10,000 illegal units could immediately be taken down once the law goes into effect.
Of course, HTC's members have been active in New York City's fight against illegal hotels since the beginning, when their harmful impact on the hotel industry first presented itself: every stay at an illegal hotel is a guest who is not staying at a union hotel, inevitably leading to layoffs for our members. Over time, our members also began to grow concerned about illegal short-term rentals more simply as New Yorkers, as our city's desperately-needed housing supply was increasingly depleted in the name of illegal hotel operations, driving up rents and negatively changing the character of our buildings and
neighborhoods.
In 2010, our Union supported the passage of New York State's Multiple Dwellings Law, which initially banned New York State residents from renting out their entire apartments or homes for less than 30 days – in other words, operating their property as an illegal hotel. But the penalties established by the law were hard to enforce, so there was almost no impact on the growing number of short-term rentals.
Then, in 2012, a Housing and Vacancy Survey found that citywide rental vacancy rates constituted a "declaration of emergency": too many apartments sat empty while people were in desperate need of housing. In turn, our Union supported efforts by the New York City Council to increase fines against illegal hotel operators, resulting in the passing of a new city law.
But still, enforcement was not easy. Chasing down the bad actors was left up to the Mayor's Office of Special Enforcement, which lacked funding and didn't have an efficient way to enforce the law. In essence, the Office of Special Enforcement had to act like a detective agency: following leads, investigating complaints from the public, and knocking on doors.
In 2014, then-Attorney General Eric Schneiderman released a report that sounded alarm bells: as many as 72% of recent Airbnb reservations violated New York law. The next year, Mayor De Blasio funded the Office of Special Enforcement with over $10 million to go after illegal operators.
There was still one major problem: the difficulty of enforcement. The websites that were used to list illegal rentals pledged to be more transparent, but in reality, they consistently refused to release data that would have made enforcing the laws easier.
So, while the Office of Special Enforcement was able to shut down some major illegal hotel operators, the number of short-term rentals in the city continued to steadily tick up. According to InsideAirbnb, at the end of 2022, NYC had more than 37,000 listings.
Local Law 18 promises to finally fix this issue. The law will create a short-term rental registry. Once the registry opens (likely this spring), websites will no longer be able to list unregistered units, and the Office of Special Enforcement will have access to the data it needs in order to systematically review rentals and easily shut down illegal hotel operations.
AN EFFORT BY THOUSANDS
The most well-known home sharing website, Airbnb, is valued at $75 billion, making it bigger than the hotel giants like Marriott, and surely much wealthier than the coalition of housing groups, unions, and concerned members of the public that took it on. The uphill battle to keep our neighborhoods safe and affordable would not have been possible without the efforts of thousands of volunteers.
"I live in Jamaica, Queens, a neighborhood where we have been overrun by Airbnbs," said Mahammad Siddique, a Banquet Server at the Westin Times Square. "For a long time, I've been outspoken about the damage illegal hotels have done to my area. Rent prices have gone up, and the sense of community has taken a hit. So it feels good to know that this could finally be the law that has the positive impact we've wanted for so long."