Schedule Your Next Interview Using Our Website!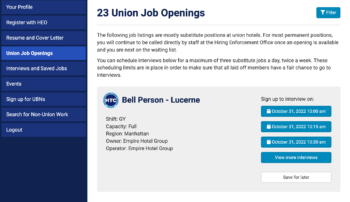 Looking for work? Members can now schedule interviews for substitute job openings at union hotels and casinos using the Union's website. Visit hotelworkers.org/hire to register with the Union's Hiring Enforcement Office (HEO), schedule or cancel an interview, and access additional resources.
If you would prefer to schedule by phone, you can continue to call the Union at (212) 957-8000 up to two times per week, between the hours of 9:00 AM – 1:00 PM and HEO staff will assist you.
A NOTE ON PERMANENT JOB OPENINGS
Interviews for permanent jobs will continue to be managed by HEO staff. If you are interested in permanent positions only, you should indicate so on your HEO registration form and you will be called directly by staff once an opening for which you are qualified is available and you are next on the waiting list.