Kathy Hochul, Our Choice for NY Governor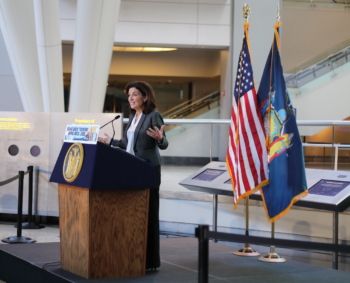 Our Union is proud to endorse New York Governor Kathy Hochul in her 2022 bid for Governor. In just a few months of her brief time as Governor, Hochul has stood out as a leader who is willing to listen to New Yorkers, find sensible solutions, and then execute them at lightning speed.
"From addressing the unemployment crisis to making sure New Yorkers finally get the financial assistance they've been waiting for, Governor Hochul has shown she is up for the challenge and ready to fight for working New Yorkers," remarked HTC President Rich Maroko.


Hundreds of Millions of Dollars for Hotel Workers and the Tourism Industry
In August of 2021, the federal government abruptly announced that it would not continue the federally funded programs that extended and supplemented unemployment benefits throughout this crisis, leaving it to the states to either find billions of dollars to continue benefits or else deal a devastating blow to unemployed residents.
As this news broke, our Union's leadership immediately contacted our allies in the New York State Senate and Assembly, who had serious and practical concerns about how to help. It wasn't that they didn't want to extend benefits, they said, but it would cost billions of dollars they didn't have.
So, just days after she assumed office, we turned to Governor Hochul – and she listened. HTC President Rich Maroko explained that New York's hotel industry and its workers have been more affected by this crisis than any other group of workers in the country. When New York's unemployment rate was 6.9%, the unemployment rate for hotel workers was over 50%. In reality, this meant that over 19,000 HTC members were waiting to go back to their jobs and desperately looking for work in the meantime.
All on her own, and in only two short months, the Governor found a quarter of a billion dollars to help hotel workers and accelerate the industry's recovery. In November, she issued an executive order that set aside $100 million to provide $2,750 relief checks for unemployed and underemployed hotel workers, $100 million to encourage hotels to recall laid off employees, and $50 million for international advertising and incentives to bring large events back to New York.
The Executive Order was like no other in the country – and a lifeline for many of our members.
"When I first heard about the Governor's plan to give us $2,750 relief checks, it was a weight lifted off my shoulders," said Biviana Pereira, who works at the Watson hotel. "I've never had to worry about how I was going to support my kids, keep us in our home, or get dinner on the table but since unemployment ended, it's been difficult to keep up with my bills. This $2,750 lets me catch up."
Petra Hiciano, who has been laid off from the Roosevelt hotel since last year and qualified for the relief checks, added "I've been looking for work for months now, and it's hard to find a full-time job that will pay $15 or $20 an hour – which is less than half of what I used to make. These checks are a big help going into the holiday season."


An Effective Executive
Since taking office just nine months ago, Governor Hochul has not only shown up for our members, but has proven herself to be an effective leader and advocate for working people.
She has distributed over $1 billion in rental assistance and committed another $1.1 billion for distribution, announced $539 million in funding to help homeowners at risk of defaulting on their mortgages, accelerated the distribution of aid to undocumented workers who were left out of previous benefits, and signed a series of criminal justice reform bills into law.
Hochul also took steps to help the most vulnerable in our State. She accelerated the distribution of aid to undocumented workers from the Excluded Workers Program (approving $850 million for distribution within the first month of the program) and signed a series of criminal justice reform bills into law including granting individuals on parole the right to work overtime, night shifts, and travel during curfew times and allowing individuals on supervised release to protest working conditions.


HTC Executive Board and Local 6 Delegate Assembly Unanimously Back Endorsement
The members of the HTC Executive Board, which includes leaders of all our affiliated locals, and the Local 6 Delegate Assembly, which is made up of over one hundred members, unanimously backed the leadership's recommendation to endorse Governor Hochul.
Erik Owusu, a member of the Local 6 Delegate Assembly from the Crowne Plaza hotel, praised the endorsement.
"The past several months have been some of the hardest for me and my family," said Erik, who is currently laid off. "I am incredibly grateful to our Union for fighting to get us every penny in financial relief and to Governor Hochul for finding a way to support us and hopefully, get more of us back to work."