Inside the Union Drive: Executive Hotel Le Soleil Workers Vote YES!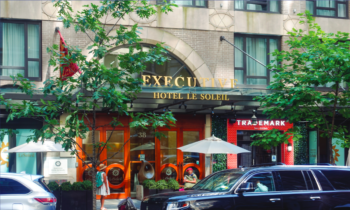 This year, Executive Hotel Le Soleil on Manhattan's West 36th Street broke into TripAdvisor's top 40 hotels in New York. While the luxury hotel's reputation among the public was improving, working conditions were deteriorating and the employees were growing discouraged.
The workers at Le Soleil did not sit back and accept the decline, they turned to our Union. Over the last year, they put in the time to learn how to build power, overcome management's anti-union campaign, win representation, and fight for a contract. Here's a look inside their fight.
Behind the Scenes at Le Soleil

Chief among the issues for front office staff was chronic understaffing and a lack of support and organization from management. The housekeeping department at Le Soleil is subcontracted and post-pandemic, their hotel managers were rarely around, leaving the front office staff to pick up the slack.
It was an everyday thing for front desk agents or bellpersons — who are paid only cents above minimum wage — to be called away from their posts to separate linens, clean rooms, or fulfill guest requests.
You'd be hard pressed to find a single worker at Le Soleil who doesn't have a story to tell about being pushed to their limits, doing multiple jobs at once. For instance, there's the "Valentine's Day Massacre", as it was dubbed by the workers, when three front desk agents showed up to work to find the sold-out hotel wasn't ready. There weren't enough workers from the housekeeping agency on one of the busiest nights of the year, leaving the front desk staff to scramble to clean rooms, make beds, and scrub bathrooms all before guests arrived at 3 pm.
Jamie Franqui is a bellperson at the hotel. "We felt like we had no back up: no managers to turn to when the agency didn't bring enough people, a guest got aggressive, or there were scheduling mistakes. Everything was left up to us."
Workers at Le Soleil weren't only facing burn out, they had a less-than-luxury benefit package. The hotel's healthcare was wildly unaffordable. Only two employees were enrolled in the medical plan, which could run nearly $1,000 a month for family coverage.
Adding insult to injury, members reported that management used the pandemic as an excuse to end its already-meager match to the 401(k) plan. The hotel had just started offering the 401(k) in 2019. Then in November of 2021 they suddenly issued a new handbook, deleting the section on the 401(k).
"Even though we could see that the hotel was doing really well, management decided to stop paying into our 401(k)," explained Luis Herasme, a Front Desk Agent. "After everything we had done for the hotel during the pandemic, it was really discouraging." (The company was unclear about why this happened, but employees report that they have yet to see any new company contributions.)
Although it may seem questionably legal to suddenly stiff workers of benefits, absent a union contract, it's completely allowed. In fact, open to the fourth page of Le Soleil's employee handbook and you'll read: "the policies stated in this Handbook are subject to change at any time at the sole discretion of [the employer]."
Luis recalls an early union meeting with Organizer Lydia Diana and Director of Organizing Julia Rybak, who pointed out this very language. For him, it was a wakeup call. "The handbook starts off with a phrase that basically means, 'the rest of this handbook doesn't matter,'" Luis remembers. "That means management can take away anything they want from us at any time, including our jobs."
The workers craved representation: someone to back them up when management was wrong and leadership was absent.
"My mom has been in the union for many years," shared Maria Paredes a Room Inspector at Le Soleil. "She told me they could never run her hotel like Le Soleil – asking you to do the work of a totally different department and leaving you with no manager to turn to in difficult situations."
Taking Matters Into Their Own Hands
The workers at Le Soleil turned to organizers at our Union in the summer of 2021. Soon, they were making regular visits to the HTC office to learn about what it would take to win, gear up for an election, and "inoculate" themselves against the hotel's inevitable anti-union campaign.
"Ever since that first call with union organizers, I felt better," says Andrew Acosta, one of the first Front Desk Agents to come to our Union. "It's a very good feeling to have someone who knows what you're going through listen to you and lay out a plan to change things."
Parties, Prizes, and Promises
When our Union filed a petition for an election at Le Soleil in April, the alarm bells went off. All of a sudden, management was back in the hotel — and they were being more generous and sympathetic than ever. Their first order of business was throwing a "long overdue" party in celebration of all the hard work the staff had put in during the pandemic. There was a big dinner and a raffle of some amazing prizes: a free dinner for two at the hotel restaurant, a free stay at the Le Soleil in Vancouver, and a TV.

Over the next four weeks, managers pulled workers aside to make lofty promises and press for information about who backed the union. They promised to give raises and improve benefits in order to resemble those of union workers. "If I can give you whatever you guys want, then why do you have to go the union?" General Manager Florencio Ferrao asked workers in one backroom meeting.
Company executives were apparently so threatened by the idea of the workers joining our Union that they flew in from Le Soleil headquarters in Vancouver to make promises themselves. "Listen, I can solve all the problems," fresh-off-the-plane Salim Sayani, CEO of Executive Group, told the Le Soleil workers. "All of this can be fixed."
"It was all so transparent," said Eranny Crisostomo, a Front Desk Agent at Le Soleil. "We knew that if we voted against the Union, all their promises could have evaporated just as quickly as they made them."
Union By a Landslide
On May 12th, the workers showed up to the polls in force for an election held by the National Labor Relations Board and voted 83% in favor of making HTC their collective bargaining representative.
"The crew at Le Soleil refused to be bought cheap," said Ainka Scott-Antoine, one of the lead organizers on the drive. "They knew that without a binding contract, anything management offered could just as easily be taken away."

Coming Up: The Fight for a Contract
"Winning the election is really just a hoop the workers have to jump through in order for us to represent them at the negotiating table," explains HTC's Director of Organizing Julia Rybak. "The real victory is winning a strong union contract."
And that fight is just beginning at Le Soleil, where we will fight for our Industry Wide Agreement, which would provide the workers with free family healthcare, a pension plan, job security, the right to a safe, reasonable work load, and more.
"I'm not going to act like this was easy!" says Andrew Acosta. "But it's absolutely worth it! We've got real power now. We're going to be able to make things much better."