HTC Pres. Peter Ward on Our Union's Efforts in the NY Primary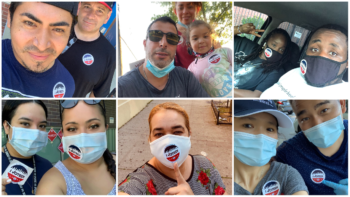 June 25 2020 6:41 PM
Tuesday's primary election in New York was one of the most unusual elections many of us have experienced in our lifetimes, and I'm proud to report that our Union yet again played an outsized role in some of the most important races that were held. Candidates, campaigns, PACs, and unions all struggled to campaign effectively while millions of people navigated the absentee voting process for the first time. Despite these challenges, HTC managed to distinguish itself as a highly impactful political force. HTC staff engaged with thousands of our members via phone and text to get out the vote for dozens of races. Absentee ballots are still being counted, but in some of the highest profile and consequential races, our preferred candidates appear poised to win.
One of the most closely watched races has been in New York's 15th Congressional District, where we made an early bet by throwing our weight behind Ritchie Torres, who has been a staunch ally of ours for years. As a NYC Council Member, Ritchie has sponsored legislation to protect hotel workers' jobs and stood up against illegal hotels on Airbnb. HTC was the first union to endorse Ritchie and one of the only major unions to back him. We put resources behind him and engaged around 2,000 HTC voters in the district to make sure they understood the need to vote for him. Early reports indicate that Ritchie has a strong lead so far.
HTC was also an early backer of Donovan Richards for Queens Borough President. As a NYC Council Member, Donovan has always stood by our side. He has opposed illegal hotels on Airbnb, advocated for affordable housing and been an unapologetic advocate for racial justice and police reform. Donovan faced a very competitive election and he knew what it meant to have hotel workers in his corner. HTC staff worked for months to engage over 6,000 HTC voters in Queens for this race, and the early poll results indicate that he is leading right now.
The coronavirus pandemic has been, without a doubt, the most difficult challenge our Union and its members have ever faced. The Union's leadership and staff have risen to this challenge by identifying and making every possible effort we can take to address the hardships our members face. But, we also haven't lost sight of the external world, where elections and legislative activity have the potential to impact us for years to come. This past Tuesday's primary election will determine a slate of city, state, and federal officials, some of whom will directly influence issues that are critical to us. As a result of everyone's efforts and solidarity, we have maintained the enormous political strength we will need to face our challenges in the recovery period of this crisis and beyond.
Thank you.
In Solidarity,
Peter Ward