HTC Donates Over 6,500 Essential Supplies to Asylum Seekers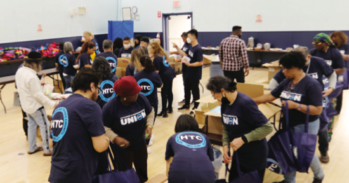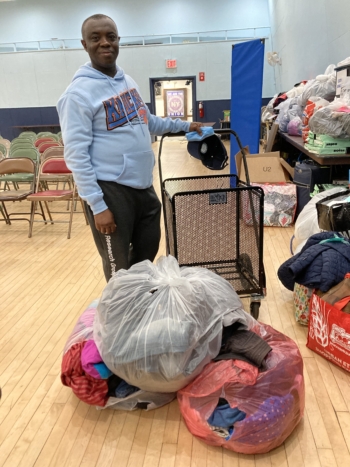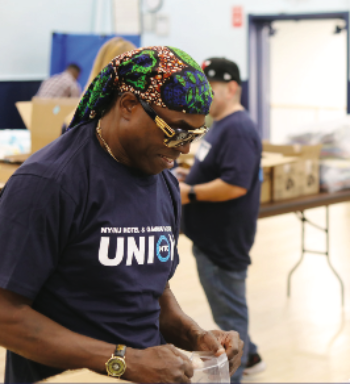 In August 2022, Texas Governor Greg Abbott started bussing asylum seekers at the U.S./Mexico border to New York City as part of a cruel, political stunt. As the buses arrived to Port Authority, we saw thousands of people and families deserted in our city with few supplies and nowhere to stay. Various non-profits and city agencies scrambled to provide support. Our Union community sprang into action, quickly organizing a supply and clothes donation drive.
Over the fall months, our auditorium steadily filled with clothes, winter coats, toiletries, school supplies, toys, diapers, bottles, and baby formula, all donated by HTC members and staff. They not only gave supplies, but also volunteered their time: organizing clothes, packing up donations, and helping distribute them to the migrants sheltering at Union hotels near Times Square.
HTC member Donna Samuels donated sup- plies and came out to an event to pack toiletry bags, diaper bags, and backpacks for school aged kids. "I came to America from Jamaica as a teenager. I was almost in the same situation as the migrants who just arrived on the buses," she shared. "When I saw we were doing a donation drive, I thought, oh my God, I have to go participate."
Marie Sidnez, Maxwell Hotel, donated clothes and came to a packing event all the way from Long Island, "It wasn't easy to get here, but as I was watching the news, seeing people get off the buses, I put myself in their shoes. I had tears in my eyes. It killed me. I had to do something," she said. "Without the Union, we wouldn't be able to help out in this way."
Bertha Pazos, Michelangelo, volunteered at two events to pack donations. "When I saw what the Governors of Texas and Florida are doing, I felt so bad. We're all immigrants. I'm originally from Peru. I know the migrants came here because they didn't have what they needed in their country, and they dreamed they could come here and get it," she shared. "Today, we're all working together to help with that, in the way that we can."
HTC collected supplies for six weeks, held two events to pack donations with over 90 member volunteers, and distributed supplies at three Union hotels serving as emergency shelters in Midtown. In total, our Union redistributed over 6,500 items.
As hotel workers, you all know better than anyone how to welcome people and make them feel at home. Our drive, though small compared to the tremendous need of those seeking asylum, was our way of saying welcome, you belong here, and you're not alone. To everyone who joined the effort– whether you dropped off a bag of clothes or came out to an event–thank you.