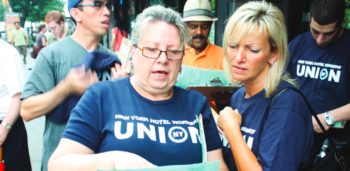 ALEKSANDRA NOSEL,HEAT REPRESENTATIVE
After more than two decades of passionately serving her Union, HEAT Representative Aleksandra Nosel retired from HTC at the end of May.
Born and raised in Gdansk, Poland, Aleksandra developed an understanding of the importance of solidarity at a young age. She fought in a movement for workers' rights in an authoritarian political climate that disallowed organized labor, even after her brother was jailed for such activism during a period of martial law. "I have fight in my blood," she says. "I wasn't scared. If you're sure 100% what you're doing is what you're supposed to do, you're not scared."
In the late 1990s, Aleksandra relocated to America to be with family, and shortly afterward she took a job at a Baskin-Robbins ice cream store. She worked 84 hours a week for $6.50/hr with no benefits, all while taking care of her ailing mother and helping her neighbor's babysitter. But Aleksandra believes that what goes around comes around, and what came around for her was a tip from her neighbor's babysitter about a housekeeping job at the Affinia Manhattan.
"When I started to work in the hotel, my life was completely changed by the Union," says Aleksandra. She became middle class overnight, and felt called to give back to the Union through volunteer work and organizing her coworkers. Aleksandra credits Business Agent Dorota Lesniak for first showing her the ropes at HTC, and enabling her to quickly become a fierce delegate.
In 2014, Aleksandra came on staff to speak to members ahead of the vote to increase union dues and mobilize more members to volunteer. She never left. As a HEAT Representative, Aleksandra was best known for her near omnipresence on shop floors. Her members were sad to see her go, as was evident in all the goodbye cards she received during her last week. In the Union office, Aleksandra's coworkers miss her dearly, as well as her daily distribution of milk fudge candies—or "Polish gasoline," as she calls it.
She looks forward to traveling the world, visiting friends, and continuing to support the Union at events