College Scholarships Awarded to 54 High School Seniors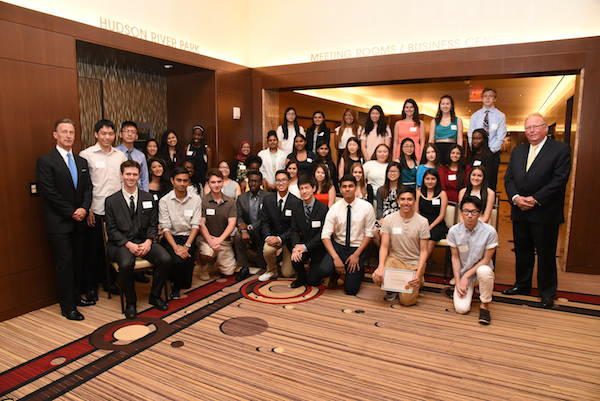 The young faces of the future smiled broadly on June 22—and even broader smiles were on the faces of their proud parents—when 54 graduating high school seniors received college scholarships.
A total of 38 students were awarded Vito J.Pitta scholarships and 16 other students received HTC Division A college grants. Since its inception in 1987, the Vito J. Pitta scholarship program has now awarded $7,384,000 in college grants to 923 children of Hotel Trades Council and Local 6 members employed in hotels and private clubs. Each of the Vito J. Pitta scholarship recipients will receive a grant of $8,000 payable in $2,000 increments for each year of college. Sixteen other graduating high school seniors—children of Hotel Trades Council members employed in Division A hotels, also received college grants on June 22. The Division A program will also be awarding renewal grants for previous winners later this summer.
Hotel Association President Joseph Spinnato congratulated the winners, saying it was as memorable a day for the hotel industry as it was for the students themselves. He noted that many previous award winners have gone on to accomplish great things and said he expected the same from this year's scholars.
Hotel Trades Council President Peter Ward saluted the person responsible for the creation of the scholarship program, Vito Pitta, Ward's predecessor as Hotel Trades Council President. He said that Pitta was himself an immigrant. He said Pitta's last year in school was 10th grade because he had to go to work, and yet he recognized the great value of education. While the parents of many of this year's scholarship winners are immigrants, three of the recipients—like Pitta—were  themselves were born outside the U.S.
Ward congratulated not only the 54 scholarship recipients but also their parents, saluting their hard work and dedication. He said the scholarship program is one of the Union's greatest accomplishments, and he expressed strong appreciation to the Hotel Association and individual employers whose contributions make the awards possible.
The Chief Executive Officer of the Union and the Hotel Association's Benefit Funds, Dr. Robert Greenspan, also congratulated the students, and he reminded them that the scholarships they received come with special responsibilities.
"It is easy to disengage from the world as it is when we hear of the suffering from the Middle East to Nepal, when we read about the shootings at Emanuel African Church in Charlestown and when we know the globe is warming and the middle class is shrinking," Greenspan said. "The world's deepest problems defy easy resolution. We will need you and your generation to use your intellect and education to solve these problems and shift the cultural climate."
Before announcing the individual award recipients, Vito J. Pitta Scholarship Committee Chairperson Lawrence Momo said they make up an extraordinary group of scholars, with many exceptional talents to be developed over the next four years.
Following the presentation of the awards certificates by Peter Ward and Joseph Spinnato, all the scholarship recipients were asked to stand. They received a very appreciative round of applause from everyone present. Then the parents of the scholarship recipients were asked to stand. They received an even louder and longer round of applause!
As we have found in the past, this year's scholarship awards show that achievement is common to many families within the Union. In fact, five of this year's scholarship recipients have siblings who are previous award winners, and one of them, Grace Camia, has two siblings that are previous scholarship recipients.
Like the scholarship recipients that have preceded them, this year's 54 scholars comprise an amazing group of dedicated and promising young adults. They make their parents proud, they make the hotel industry proud and they make the Union proud!
Below is a full list of the 2015 winners: