Clarion Empire Meadowlands Workers Ratify Their First HTC Contract!
Jubilant workers at the Clarion Empire Meadowlands Hotel in Secaucus, New Jersey unanimously ratified their first Hotel Trades Council contract on Thursday, November 21st. It is by far the best contract ever won for the workers at the Clarion, who were previously represented by the now defunct Local 96.
The new contract doubles annual wage increases for workers, substantially expands their rights and protections, and guarantees free health care for the life of the agreement. The victory came about as a result of a long negotiation between the hotel and the Union. The Union's legal staff was instrumental in the eventual success of those negotiations, and the most important component of this victory was the steadfast solidarity and determination of the Clarion employees themselves.
The Clarion workers remained strong and united throughout the contract negotiations, and they are now urging other members of our Union who are fighting for contracts to do the same. Clarion room attendant Tommie Wilson is a perfect example, saying, "My advice to all my brothers and sisters is to stay strong and united behind the Union. If you do, you will get the contract you deserve."
Well said, Tommie, and there are plenty of other examples in the Hotel Trades Council to show that unity wins good union contracts.
"This is another solid win for workers who stand up for themselves by standing behind their Union," Hotel Trades Council President Peter Ward said. "We sincerely congratulate all the workers at the Clarion Empire Meadowlands on obtaining their first Hotel Trades Council contract."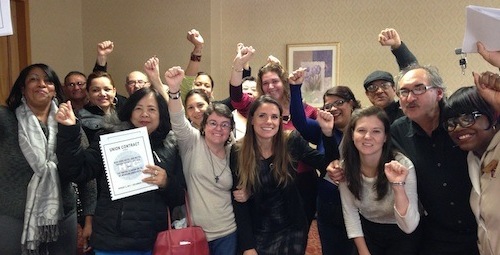 Clarion Empire Meadowlands Hotel workers celebrate the unanimous ratification of their first Hotel Trades Council contract with the Union's Assistant General Counsel, Alyssa Tramposch and Organizing Supervisor, Meg Fosque.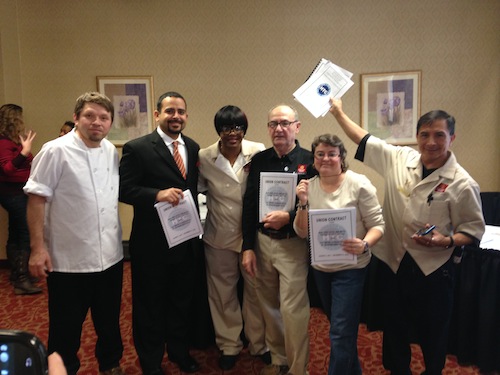 Delegates from the hotel celebrate with Local 6 Vice President George Padilla.