Caught Red Handed: Truss Hotel Tries to Subcontract Union Work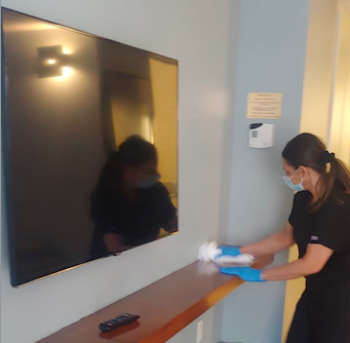 In September 2021, Union representatives caught the Truss Hotel in a brazen attempt to eliminate union jobs. At the time, the hotel appeared to be completely shut down and all 17 union members were on layoff, yet behind the scenes, the hotel had brought in Outpost, an online company that rents hotel rooms to temporary residents and uses its own non-union staff to check-in residents and service the rooms.
Union Room Attendant and Delegate Arisnelda Rodriguez noticed a pattern of people entering and exiting the Hotel with suitcases, so she contacted her business agent to investigate. Business Agents Miguel Castañeda and Jetmira Gjini visited the hotel and together with Arisnelda and Room Attendant Albania Olivo, they gathered evidence confirming what Rodriguez had suspected: the hotel was letting out rooms to guests and subcontracting union work.
Under all of our master contracts, work performed by union members cannot be given to non-union workers, including managers, contractors, or outside agencies. This was a clear violation of the contract.
Union representatives confronted hotel management, eventually pressuring new owners to end the agreement with Outpost, recall all of the affected workers, and ensure daily room cleanings. Now, the Union is going after backpay including a 15% penalty for willfully violating our contract language on top of lost wages.
Vladismir Acosta, a houseperson at the Truss Hotel, was just one of the affected workers. Acosta was laid off in March 2020. When his unemployment benefits ran out, his bills began to pile up and he got a job at the Cipriani South Street, a non-union hotel and restaurant.
"I only made $15 per hour at the Cipriani," said Acosta. "I went into debt. I just couldn't get by on only $15. It was incredibly stressful."
Acosta was recalled to work at the Truss in September 2021 following union negotiations with the Hotel. He says he's now managed to pay back almost all the money he owes.
"Getting back to work at the Truss has been a lifesaver for me and my family." said Acosta. "Without the Union, I may never have been called back."
"Workers at the Truss Hotel fought hard to join our Union in 2019 so that they'd have protections in situations just like this," said HTC President Rich Maroko. "Hotel owners and corporate executives make decisions in board rooms every day that dramatically impact the lives of their employees and the only way you get a say is if you have a strong union and a strong contract."