Brie Mac 'N Cheese with Spinach and Figs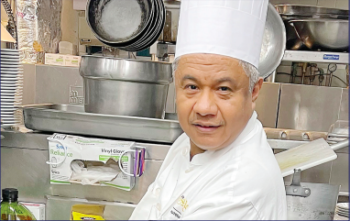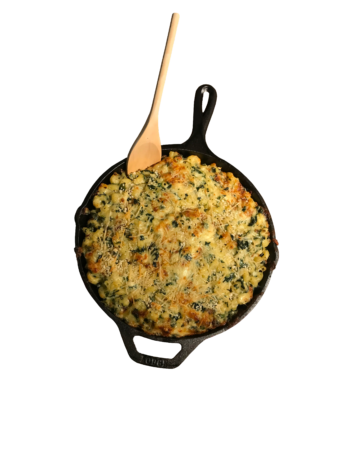 By Jose Luis Rojas, Algonquin Hotel
Union Chef Jose Luis Rojas began working as a Delivery man in the 1980s. He soon became a Busser, next a Waiter, and then finally made his way into the kitchen. He hasn't left since.

In 2003, Jose Luis graduated from New York Restaurant School and shortly afterward, he began working in hotels. Jose Luis now works at the Algonquin Hotel, where he's been for almost 17 years. But another of his culinary accomplishments has been his role in helping to develop the first menu for popular East Village mac 'n cheese restaurant S'MAC.

This Union Chef kindly shared his mac 'n cheese expertise by writing up an original recipe that shows how the popular dish can be prepared elegantly to suit even the classiest of occasions.

The bread crumbs and sautéed spinach give the final product a wonderful texture, and the dried figs add a tasteful sweetness that guarantees the dish won't last long at a crowded dinner table.

Bon Appetit!
INGREDIENTS
• 1 (35 ounces) brie cheese wheel
• 16 ounces gruyere cheese
• 1 pound elbow macaroni pasta
• 1 tablespoon salt
• 2 cups fresh spinach
• 1 tablespoon minced garlic
• 1 tablespoon olive oil
• 2 cups dried figs
• 1 and 1/2 cups of Panko bread crumbs
• 1/2 cup grated parmesan cheese
• 1 teaspoon dried oregano
• 1 pinch ground pepper
• 1 pinch parsley
STEPS
1. Preheat oven to 350°. Cut off the top rind of brie and then place in a skillet about the same size. Add gruyere to skillet, and bake until brie is bubbling and totally melted throughout, about 25 minutes. (The exact time will vary depending on how big your wheel of brie is, so start checking after 15 minutes!)

2. Meanwhile, in a large pot of boiling, salted water, cook elbow pasta according to package instructions. Save about 1 cup pasta water, then drain and transfer elbow pasta to a large bowl.

3. Sauté spinach with garlic and olive oil. Toss elbow pasta with sautéed spinach, dried figs, garlic, and oil. Season with salt and pepper.

4. In another medium bowl, stir together Panko, parmesan, and oregano.

5. After removing brie from the oven, immediately add macaroni mixture to the skillet and toss until coated with brie using tongs. If brie is too thick, gradually add pasta water to loosen it up.

6. Spread coated pasta in an even layer, then top with your Panko mixture.

Let cool and enjoy!