A Special Report from HTC President Rich Maroko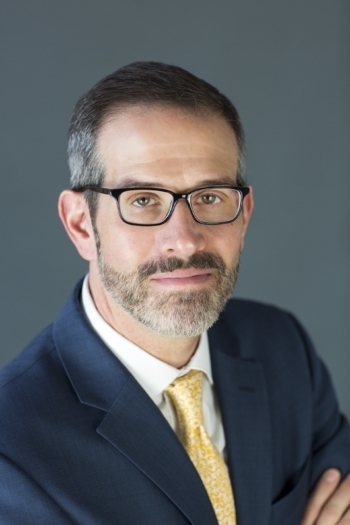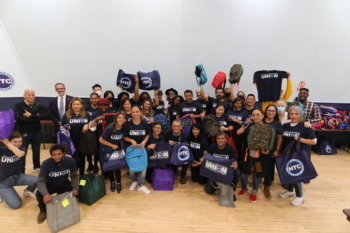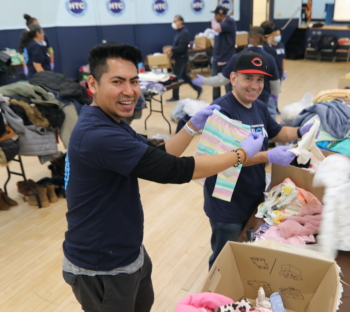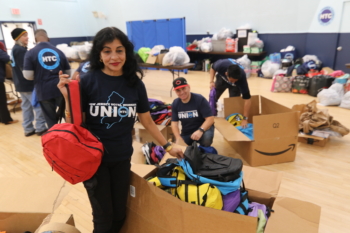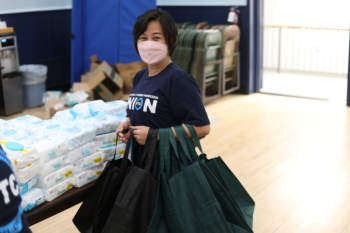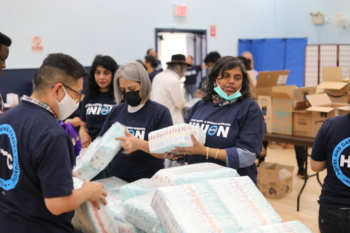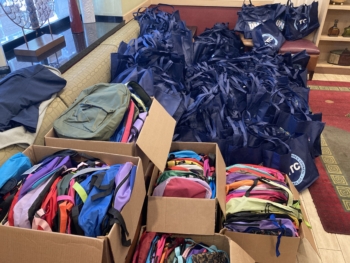 For several months, Texas Governor Greg Abbott has been bussing migrants to New York, Washington D.C., and Chicago by the thousands. The rapid and uncoordinated arrival of so many people has caused chaos at bus terminals, put a strain on public services, and added stress to those arriving to our country already scared, exhausted, and in desperate need of help.

For Texas, these migrants are props in a political agenda: a tool to rally conservative Texas voters ahead of the November elections and a way to punish liberal cities and mayors who have criticized Abbott and his party's harsh immigration policies.
But in New York, we understand these migrants are real people who are fleeing terrible violence, extreme poverty, starvation, and political persecution – and they need taking care of. Unlike the Texas Governor, we have not forgotten our nation's values to care for the tired, the poor, and the "huddled masses yearning to breathe free."
THE HUMAN BEINGS BEHIND THE STORY
Many of the migrants being bussed to New York are fleeing Venezuela. Their country is currently facing a humanitarian crisis. The economy is in critical condition and many Venezuelans are unable to access healthcare or secure food for their children. Furthermore, there has been a brutal repression of political opponents, reports of police abuses, torture, and murder at the hands of authorities, and the arbitrary arrests of thousands. As a result, over 6 million people – an estimated one out of five Venezuelans – have fled since 2015.
Escaping to the United States is extremely hard. During the trip, many Venezuelans are robbed, raped, and even killed. "They ask me: Why risk it?" Zulay Chirinos from Venezuela told the New York Times about a pregnant friend who recently left Venezuela to make the dangerous trek north. "She risked it because it's a choice between dying on the route, or dying here."
Another Venezuelan, Ardenis Nazareth, told the Times that he had tried for nearly a year and a half to find enough work in nearby Chile and Peru before deciding to come to the United States. In a statement that any parent can relate to, he told the Times, "I decided I would do anything to provide for my daughters."
Once at the United States border, these migrants have the legal right to seek asylum and remain in the United States while they wait for their application to be approved.
A CRUEL, INHUMANE POLITICAL STUNT
The Texas Governor targeted New York because he believes that we – a city of millions of immigrants – don't understand the hardships that come with immigration. He claimed that before bussing migrants here, "it was just Texas and Arizona that bore the brunt of all of the chaos and all the problems." But it is clear that what Abbott is really doing is exploiting real peoples' suffering, fear, and desperation for his own political gain. By deserting thousands of migrants and creating mayhem at bus terminals in New York and other sanctuary cities, the ambitious Texas Governor is making national headlines and mobilizing Texas voters ahead of his November election.
If there was any doubt that Abbott's actions are a cruel publicity stunt – rather than a real attempt to deal with a broken immigration system – look no further than September 15th, when Abbott bussed nearly 100 migrants to Vice President Kamala Harris' residence in Washington D.C.. While his office apparently had time to alert the media – Fox reporters were on the scene to film the arrivals – they did not notify the local government or non-profits who could assist those arriving.
NEW YORK CITY ISN'T PLAYING POLITICS BACK
When Abbott's first buses arrived at Port Authority from Texas in early August, in the true New York spirit, elected officials, city workers, local non-profits, and volunteers rushed to greet the migrants, scrambled to provide food, clothing, toiletries, and medical care, and worked to rapidly expand resources for them.
Few of the over 11,000 asylum seekers now in New York City have any family here and consequently, 8,500 are relying on the City for shelter. To meet this dire need, the City has opened 23 new emergency shelters in hotels and is exploring options to house migrants in more hotels, construct temporary shelters, and even use cruise ships. The Union's leadership is in talks with the City to shelter migrants in our hotels whenever possible, both because it is a safe space for those migrants and also because it creates jobs for our members.
New York City also quickly opened a new "Asylum Seeker Navigation Center" in Hell's Kitchen in September, where migrants can access services to enroll their children in public school, sign up for health insurance, receive mental health counseling, connect with lawyers, and find a place to stay.
New York City's welcoming response should make you proud to be a New Yorker. But despite our government's best efforts, a lot more help is needed. The sheer number of asylum seekers arriving from Texas is overwhelming our social services, and real people – many of them children – are suffering as a result.
OUR UNION IS STEPPING UP
Many of our Union's members are first- or second-generation immigrants who – just like those arriving today – have fled poverty, violence, and political persecution. Many of you understand what it is to leave your family, community, and career behind to start over in New York City. You know first-hand the stress of finding a place to live, starting your children in school, and looking for work in a foreign city. And as hotel workers, you know better than anyone how to take care of people in need of a safe haven.
Over the last 80 years, the members of our Union have stood up for what's right. Today, that means welcoming these asylum seekers to our City and helping them as best we can. Our Union will be collecting and distributing desperately needed supplies to the migrants living at emergency shelters, including children's school supplies, baby supplies, coats, and clothing for the colder weather. We are asking you to give what you can, whether that be donations of supplies and clothing or your time helping to prepare and deliver items.

What to donate: The following items are the most needed.
Winter coats and warm weather clothing (All sizes! New or gently used!)
Clothing (All sizes! New only!): underwear, socks, undershirts, shoes, and bras
Baby items: diapers, diaper cream, baby wipes, unopened baby formula, pacifiers (new), warm weather clothing, hats
School supplies: pens, pencils, markers, erasers, pencil sharpeners, glue sticks, scissors, crayons, rulers, calculators, notebooks, folders, children's books
New toiletries & hygiene items: body wash, shampoo, conditioner, deodorant, toothbrushes, toothpaste, shaving cream, nail clippers, floss, unopened menstrual products, band aids, antibiotic ointment, and laundry detergent
How to donate: Please bring donations to the Union Office at 709 8th Avenue, 2nd Floor. The office will be open to accept donations Monday through Friday, from 9 am to 5 pm through Friday, November 18th.
Please note: The union office will not be open to accept donations on Tuesday, 11/8.
How to volunteer: In addition to donating items, our Union needs members to help package and distribute the supplies to asylum seekers at emergency shelters. To volunteer, contact HEAT Assistant Sally Weathers at (646) 877-6283.