Fighting For Social Justice Since 1939
The New York Hotel and Gaming Trades Council, AFL-CIO (HTC), has a rich and proud history as a progressive, fighting union. For more than 80 years, it has made life better for literally hundreds of thousands of hotel workers and the members of their families.
The Struggle to Build Our Union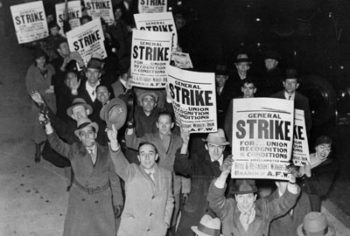 HTC was founded in the late 1930's in a massive campaign to organize workers in the New York City hotel industry. Until then, hotel employees were among the most exploited workers in New York. Working conditions were horrendous. Treatment was unjust and demeaning. Benefits were non-existent. Hours were brutally long and wages pitifully low.
Each previous attempt to unionize the city's hotels had been crushed by hotel owners, including a general strike among hotel and restaurant workers in 1912. Most of these attempts by New York City hotel workers to organize were defeated easily.

In 1878, recognizing the power of unity, the city's hotel owners organized the Hotel Association of New York City, Inc., largely for the purpose of resisting unionization by their employees. In contrast, the efforts of hotel workers to unify were repeatedly foiled because of rivalries between competing and bickering craft unions that each claimed jurisdiction over parts of the industry.
This all ended when the Hotel Trades Council succeeded in uniting workers in all the jobs ("trades") in the city's hotel industry and winning the struggle for union recognition. HTC's first contract was signed with the Hotel Association on January 18, 1939.
A Leader in the Fight for Social Justice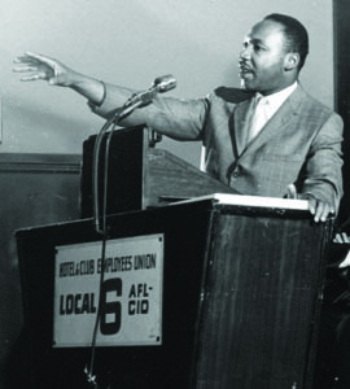 HTC was among the first major unions to win a contractual industry-wide prohibition against racial discrimination in hiring (in our second contract in 1942). Together, HTC, and its largest affiliated local, Local 6, were at the forefront of the civil rights movement in the 1950's and 60's. In the 1990's, HTC became one of the first unions to win full benefit coverage for domestic partners of union members. Our union remains a powerful force for human rights and against discrimination.
Our union has continued to lead the way to progress for hotel workers. Each successive contract negotiation has increased their standard of living, as well as the respect and dignity they enjoy at work. The members of our union understand that every step forward has only been possible because of hard and united struggle.
In 1985 the members of our union voted to call a city-wide hotel strike to beat back an aggressive attempt by the hotel owners to force the union to accept a long list of contract givebacks. In 1990, 1995, and again in 2006, our members waged successful contract fights, securing in each case excellent contracts.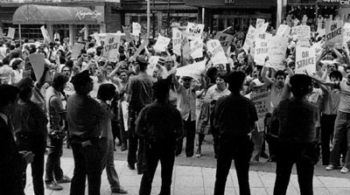 Today, our union's Industry-Wide Agreement (or "IWA") is the best contract for hotel workers in the world. Our union has a great tradition of militant contract enforcement, activism for social justice, and member participation. Through their union, our members have the ability to speak with one strong voice.
Approximately 75% of the hotel industry within the five boroughs of New York City is under contract with HTC (our union density). Our union is working hard to organize every unorganized hotel worker in New York.