Gabriel Diaz, Sheraton New York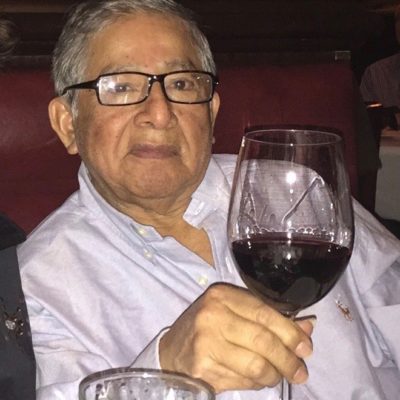 Gabriel Diaz, a room service server and Delegate at the Sheraton New York, has sadly passed away.
Those who knew Gabriel remember him as a warm presence, hard worker, musician, and a loving husband and father.
Garde manger and Delegate Eladio Acevedo worked with Gabriel for almost 30 years and remembers him as a fierce Delegate for his coworkers. "Gabriel was a defender. I call him that because at work, Gabriel would always stand up to management and defend his coworkers. He became a Delegate because he was committed to being a voice for his fellow Union members. He helped people raise issues at work, and made sure people had the resources that they needed. He loved our Union and would often go to events and rallies to fight for us. They way I see it, he had two jobs: he would serve the guests as a room service server, and he would serve the members as a Delegate."
Franqui Bencosme, a room service server and coworker of Gabriel's for 36 years, remembers Gabriel's love of music. "Gabriel was such a warm person.He was very happy. I worked the morning and he worked the evening shift, but he would often come in an hour early to play his guitar and sing with us. That's how I remember him."
Garde manger Margarita Nunez remembers Gabriel Diaz as a calming presence in the hotel's kitchen. "Anyone who has worked in a hotel knows that the kitchen can feel like a war zone. Gabriel was always a sweetheart. He always had kind words to help others feel better during stressful times."
Gabriel's children shared their love for their father, as well as some reflections, words and memories from his life.
Gabriel's daughter Gisella writes, "My, Daddy, as I always called him was my 'Hero'. He was always there to the rescue with his unconditional love. He had a heart of GOLD! He was generous and he shared whatever he can do to help others. He was an amazing Dad and I will miss him immensely. I Love You, Daddy, forever."
Gabriel's daughter Tania writes, "My dad was the heart of our family. I recall the many memories of him being there for me. As a little girl, if I wanted to go to the roller-skating rink with my little brother, daddy would always give me extra money even though he wasn't supposed to. He's been there with me every step of the way throughout my entire life. I cannot imagine my life without him. Thank you daddy for everything you did for us. I'll love you always. God bless you.
Gabriel's son, Joseph Diaz shared, "He was a devoted husband, father, grandfather, brother, and son. To me, he was just Dad or 'Papi' as I would call him. Being his only son and the youngest of three, Dad and I had that joyous father/son bond. It never occurred to me how much my dad affected so many people in a good way. It wasn't until after he was gone that I would hear so many nice stories from his friends. Most described him as good hearted, polite, humble, charismatic, and respectful. He was a loving husband to my mom for 59 years. And he loved the guitar. He believed in hard work and always putting in 110%. That is how Dad was. My family and I will always remember him for the decent and kind man that he was. As heartbroken as we are, we know he's in much better place resting peacefully."
Gabriel is survived by his wife Grace, his children Joseph, Tania, and Gisella; his grandchildren Raul, Danny, Katliana, Jamilla; and his brothers and sisters in Ecuador.