Ernie Peters, HTC Regional Director and Local 6 Vice President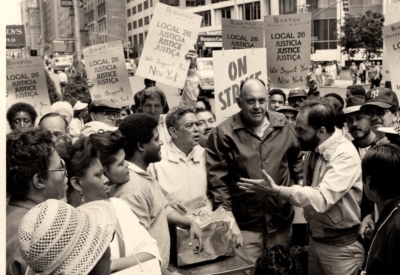 The union was deeply saddened to learn of the passing of Ernie Peters, a longtime HTC Regional Director and a Local 6 Business Agent and Vice President. Peters passed away on May 26. He was 85 years old and had been a member of our union for 68 years.
Throughout his long tenure at our union Peters was a strong representative of our members and a fierce enforcer of the contract. He was well respected by members and management alike.
"Ernie Peters was a great guy, a real gentleman and a true professional," said Sal Marciante, a Local 6 Executive Board Member. "I met him at my first HTC job at the Vista Hotel in 1981, There was one time when we had to have an emergency union meeting in the lobby of the hotel and Peters conducted it like it was the Philharmonic Orchestra. It got the job done, believe me."
Marciante had other memories of Peters. "He was a really nice guy but he had no difficulty getting into management's face if necessary. I especially remember him as someone who was always willing to help others. If anyone deserves to rest in peace it's Ernie Peters."
Peters was indeed skillful at conducting emergency union meetings. At one such session, held in the lobby of the Palace Hotel in 1987 and reported in Hotel Voice, Peters explained that the hotel's owner, Leona Helmsley, had fired a union delegate in flagrant violation of the union contract. Following his remarks a room attendant raised her hand and commented that she had worked in the hotel since the day it opened and this was the first time she was allowed in the lobby. Peters said to the room attendant, "If Mrs. Helmsley doesn't put the delegate back to work immediately you will soon be sitting in the lobby!" The delegate went back to work.
"Ernie Peters is the one responsible for my employment at the union," said John Turchiano, who has worked for HTC since 1986. "I had him as a Business Agent in 1972, when I was a college student working at the Taft Hotel to pay my tuition. Everyone in the hotel loved him. He was the friendliest guy imaginable, unless you were a manager mistreating one of his union members. Ernie recognized my abilities as a delegate and years later he introduced me to Vito Pitta and Peter Ward and I've been working for the union since then. I'll always be grateful to him for that."
"I have the fondest memories of Ernie Peters," said Local 6 Executive Board member Anthony Zaccardi, who has been a member of our union for 57 years. "I was a teenager working at the old Sheraton Motor Inn on Twelfth Avenue in 1963 and management was giving us a hard time about everything. We called the union and they sent in Ernie Peters, who was relatively new at the time. It was amazing how that one visit by Peters to our shop resulted in management suddenly treating us with respect. Ernie Peters also taught me how to be a good delegate. The valuable influence he had on me and so many other members is permanent. God bless him."
"I met Ernie Peters more than 40 years ago, when he was my first Business Agent," recalled former Local 6 delegate Bruce Bouchard. "I was new to the city from California, hoping to land theater work, and like many struggling performers I supported myself through restaurant employment. It was terribly abusive work until I found a job in a union hotel where we were treated with respect and fairness."
Bouchard said the union made a huge difference. "I knew nothing about unions but Ernie Peters taught me quickly. Because of him I have always appreciated unions, honored picket lines and insisted on fairness in workplaces," said Bouchard, who has appeared on stage and in several documentaries and is now the CEO of a theater company. "You could say that Ernie Peters had a lasting and beneficial impact on my life," he added.
Ernie Peters grew up in New York and even though he spent much of his adult life in New Jersey and Florida, many considered him the consummate New Yorker. He graduated from the Food Trades Vocational High School in 1952 and immediately went to work as a cook in the Commodore Hotel, which today is the Grand Hyatt. He worked there until 1962, leaving for three years (1958-1960) to serve in the U.S. military. He joined the Local 6 staff in 1962, serving as a Business Agent, and he was later elected as a Vice President. He also served as an HTC Regional Director for more than two decades. He retired from the union in 1997.
"When I came on board at the union in 1978 Ernie Peters and Roy Broomfield were immensely helpful," HTC President Peter Ward said in 1997, when Peters retired. "I shall always appreciate that Ernie and Roy took the time to teach me the ropes and guide me along."
When informed of Peters' passing, Ward said, "Current members should appreciate that much of what they have today is due to those who preceded them in the workplace and at the union. People like Ernie Peters did so much for so many. I was proud to work with him and also proud to call him my friend. On behalf of the entire union I express our sincere condolences to his family."
"My father had nothing but great things to say about the union and its members," his son, also named Ernie, said on May 27. "He firmly believed that the union gave back to him as much as he gave to the union."
An avid golfer and a devoted fan of his beloved New York Rangers hockey team, Peters also was known as a very accomplished baseball coach. He kept in frequent touch with the union after his retirement, even flying back to New York from Florida in 2005 to attend a memorial service for former HTC President Vito Pitta.
"It is exciting to see the great accomplishments of Peter Ward and the union's administration," Peters said last November, when he was assisting the union in a research project. "I know from personal experience what hotel and restaurant employment is like, and it's really great to see the expansion of benefits and how well represented HTC and Local 6 members are."
Peters' wife of 41 years, Muriel, preceded him in death, and he leaves behind his longtime companion, Anne Snyder, four devoted children, Ernie, Jr., Barbara, Susan and Jean, 12 grandchildren, five great grandchildren, many, many friends, and a grateful union that will always remember his hard work and ceaseless commitment to hotel, restaurant and club employees and their families.