Emas Owusu, Lotte New York Palace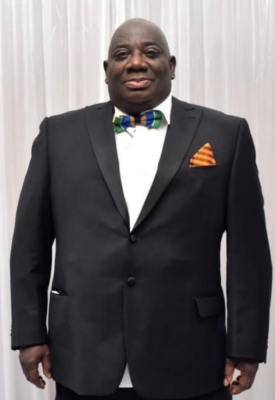 It is with heavy hearts that we acknowledge the passing of Emas Owusu, a loving husband and father who worked as a steward at the Lotte New York Palace for over 20 years. Emas had a magnetic, kind and generous personality and left a lasting impression on all those he met. His friends, coworkers, and family shared the following memories of Emas:
Kwasi Gyamfi, who worked with Emas for fifteen years in the kitchen at the Lotte New York Palace, remembers him as a generous, hard-working man. "He was a great man. We were like brothers. He was reliable at work, and if he saw someone in a difficult situation he would always help. He used to donate to orphanages and always contributed whenever anybody needed financial help."
"Emas was one of my best friends," said Yaw Boateng, a steward at the Lotte New York Palace. "He was the kind of person who would fill up a room with his voice - you always knew it was Emas talking. We're both from Koforidua in Ghana. When my mother passed away, Emas came with me to her funeral in Ghana, and my family instantly fell in love with him. It was during that same trip that he brought me to meet his family, and his mother cooked for me and took care of me. We had planned to go back this year together, but then the pandemic hit. After the news of his passing spread, my family in Ghana called me to express their grief and sadness. They had grown to love him in the short time that they knew him."
James Amoh, another steward at the Lotte NY Palace, remembers Emas as a generous man who got along with everyone. "He didn't mind giving what he had to anybody. You never saw him fighting or arguing at work. He was a lovely guy and was known and loved in the whole hotel," he said. "I remember the last day of work before the hotel closed down for the pandemic. As everyone was going home, he mentioned to me that he was going to be 62 years old and that he was going to finally retire. Sadly, Emas didn't get the chance to enjoy his retirement after working for his whole life. May he rest in peace."
Mr. Isaac Appiasam had these special words to say about his very special friend and coworker: "'Big Pappi, Wofa, Flatbush-hene Owusu' are some of the fond names his friends and loved ones called him. Emas had a wonderful and meaningful life. Emas was a charming person and impacted so many lives. He was a man of many layers - friendly, respectful, devoted - he gave his time and resources to help those in his circle of friends and the larger community whenever possible. Emas loved the area around Flatbush, especially the Ghanaian community. He helped, organized, and participated fully in the many social activities that went on here all year round. It is therefore no surprise that he was affectionately called Flatbush-hene (The King of Flatbush). To confirm his love and dedication to the community, he established memberships in social clubs like the Ghanaian Gentlemen Club, Lotte New York Hotel Ghanaians Association, Brooklyn Ghanaian Hotel Workers Association and United Ghanaian Association USA (UGA). He will be remembered for his love and dedication to his "family" at the Lotte NY Palace Hotel where he worked for many years. He was loved by everyone there - from the Managing Director to the employees, and he was especially loved by the "family" made up of Ghanaians working at the Palace. This group identify themselves as "Abusuafou at Lotte Palace." Emas' dedication to his friends was not limited to Brooklyn alone. He was typically seen in the Bronx, Queens and Staten Island attending social events organized by colleagues at work. This was how far his love reached. Big Pappi, Abusuafou at Lotte Palace we will miss your dearly."
"Emas will also be remembered for his welcoming-spirit and generosity. Those who were lucky to know him will agree that his home was always open and welcoming to friends. He was a great cook and made sure there was always something to eat and drink for his visitors, not to mention the great and memorable conversations that have taken place there. When you are with Emas in his home, it is just hard to leave. These are the things taken from us all. Emas Owusu was a gentleman with a unique personality that can be confirmed by all. He was always in great spirit and we will
forever miss him dearly and eternally remember him. Emas Flatbush-hene Big Pappi Owusu, thank you for being a part of our lives."
Okatakyiee Nana Adarkwa Boakye - Yiadom 'I' Dwantuahene 'Traditional Ruler,' Community Leader, The Lord Mayor of Kings County and Ghana Mission in New York, a very good bosom friend of Emas, shared some of his fondest memories, and how Emas was there for him and his family through both the joyful and most difficult times. "We celebrated and commiserated, and he stood by me through the happiest times. A brother I never had, as the saying goes a very good friend is more than a Brother. He accompanied me and my family to Bethel Reformed Presbyterian Church in Brooklyn on March 8th (Ghana's 63rd Independence Day Ceremony) to celebrate my birthday. He and his wife were also called upon to be Godfather and Godmother for our sons when they were born during the babies' christening. Emas also stood with our Royal Family in the darkest time of our lives when we celebrated the final funeral rites of my mother-in law. We could never thank him enough for that and his generosity. 'Agya Owusu,' as we affectionately called him, was not just a friend and chief, but a Prophet and a Big Brother we never had. I personally cannot even begin to describe all the feelings I have - the loss, the sadness and the hole left in my heart and the feelings my family had for him. Indeed, he was the Best Man, and such an inspiration, and a true friend that anyone would wish for. Although you might be gone you will never be forgotten as the scripture said 'After the death of King Uzziah, Isaiah saw the glory of the Lord' (Isaiah 6 verse 1) Until we meet again, Fare-thee-well Dearest Brother Agya Owusu King 1."
Emas's wife, Adwoa Afriyie Owusu, remembered when she first met her husband, whom she affectionately called "Yaw" in the Akan language as he was born on Thursday, "It was love at first sight. We met in London on October 31, 1994, at a celebration for my 35th birthday. We were introduced by my uncle, who was at that time friends with Yaw. Anyway, when we made eye contact, we couldn't resist smiling and giggling at each other. Then later on our first date, he told me he had admired me from afar and had continuously pressed my uncle to introduce us so he could take me out. I also had a crush on him for a long time — that is how our love story began. We got married in the summer of 1995 and had been together ever since - 25 beautiful years."
"We relocated to the USA in the summer of 1999 and had never been apart from each other. We always traveled, dined, and associated with family and friends together. We were blessed with a handsome baby boy, called Adu Owusu Junior, who was called to his glory. We shared our lives with the ups and downs, through thick and thin. God has been wonderful and has blessed us in every aspect of our lives."
"Yaw, my amazing, loving husband, I am sad that I have lost you. It is unbearable for me to console myself by the thought of losing you and the bond between us that makes two people into one. My internal love burns on, even if you are not here with me. I will forever cling to the love we shared and sustain all the laughter, joy, and happiness you brought to my life. 'Who shall separate us, the love of Christ? I am convinced that neither death, life nor anything else will be able to separate us from the love of God that is in Christ.' (Romans 8:35-39)."
The Union expresses our deepest sympathies to Emas' family and friends.