Dominick Pugliese, Marriott Brooklyn Bridge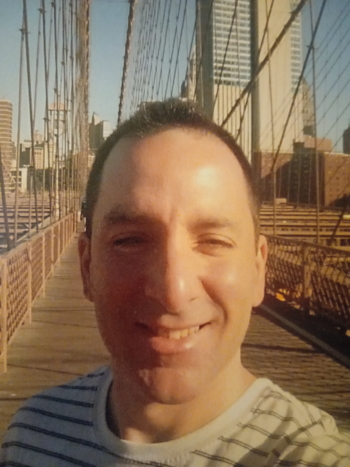 The Union is deeply saddened to announce the passing of our brother Dominick Pugliese, a housekeeping aide at the Marriott Brooklyn Bridge since 2001.
Known by all as an enthusiastic worker who cared deeply about the people around him, Dominick was adored by his co-workers, family and friends. He was also passionate about sports, especially the Yankees, Giants and Knicks. A devoted father to his three children, Dominick was immensely proud of his daughter Ashley in college.
Mohamed Othman, a longtime friend who worked the morning shift with Dominick since 2005, reminisced about their 16 year friendship and all the baseball and basketball games they attended together. "He was such a diehard Yankees fan, which is funny because I am a huge Mets fan, and so naturally we always used to rib each other about it. We always had such a good time rooting for our teams. It's so strange but I still feel like he is around. He will be sorely missed."
Nick Poveromo, a bellman at the Grand Hyatt, befriended Dominick when they bonded over their mutual love of New York sports teams and the Italian heritage they shared. "We spent a lot of our spare time competing with each other over fantasy football teams," Nick remarked. "He was really into sports, and the only thing he loved more was his kids. He never stopped talking about them. I can't believe he won't be there when I go back to work. It's really upsetting."
His long time girlfriend Cynthia spoke of Dominick's commitment to his Christian faith, and how he spent everyday trying to be a better version of himself.
"Our years together were the best of my life," said Cynthia. "His laughter used to fill our home, and now that he is no longer here, I will miss him every second of every day."