Cristina Odalis Díaz, Evelyn Hotel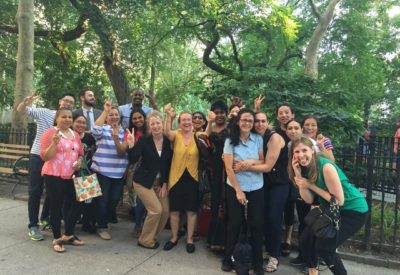 Our sister, Cristina Diaz, a room attendant at the Evelyn Hotel for 18 years, has passed away. Friends and family all remember her as always smiling and happy, never sad, and as a compassionate person who cared deeply about others.
Liliana Salazar, one of her close friends and a coworker at the Evelyn, said that Cristina's efforts during the organizing drive in 2015 were a life-changing event for her. "Cristina was the one who convinced me to join the Union. I will never forget how hard she worked for us, and her beautiful smile always made us feel good." Liliana also noted that Cristina was a devoted mother of three daughters and four grandchildren who loved life and loved to dance.
Juana Velez, one of the Union organizers who worked on the organizing drive at the Evelyn, also recalls how strongly Cristina supported the Union. "She never stopped talking to her co-workers. I was so impressed with her endless enthusiasm and her infectious smile. She really wanted the best possible deal for her colleagues - that was all she cared about."
Margarita Denton, another Union organizer, remembers the day of the Union election at the Evelyn. "We met the workers in a park near the Evelyn to announce the vote tally. They were so nervous, but when we announced that the Union won by 100%, it was crazy. We were all so emotional. Cristina walked over and a gave me a big hug. I will never forget that day." (Note Photo)
Cristina's husband, Lucindo, added these kind words about his wife, who was also his best friend. "She always wanted to do the right thing and she was always there for you. She never thought of herself. She was always happy and you knew she was happy because she was always smiling."