Carlos Lopez, Warwick Hotel and Local 6 Vice President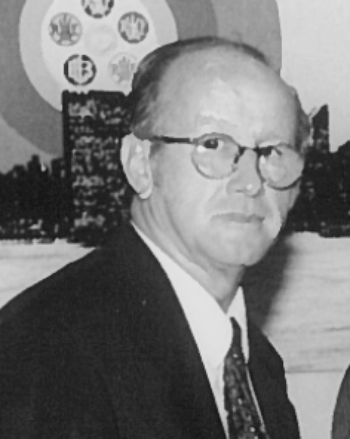 Carlos Lopez, a fixture at the offices of HTC and Local 6 for more than 30 years, passed away on April 24. He leaves behind his son, Carlos Lopez Jr., his daughter-in-law, Diana, and grandchildren Matteo and Natalia. Lopez was 84 at the time of his death.
The news was greeted with great sadness by veteran members of our Union, but many of them also had very fond recollections of Lopez.
"He was always the loudest voice on picket lines," recalled Sal Marciante, a 40-year member of the Union and a Local 6 Executive Board Member. "He really knew how to rally workers."
Indeed, he really did know how to rally members. It was Lopez who led the Harvard Club workers out of the shop and into the street on Easter Sunday, 1994, to begin their historic strike. As their Business Agent, he was at their picket line everyday, even on weekends, for the duration of the fight, which ended in the workers enjoying a great victory.
Lopez literally "rang the bell" in another famous confrontation with management in the early 1990s at one of the most famous private clubs in the city. When management ignored Local 6's demands to correct contract violations, Lopez called an emergency Union meeting in the lobby of the club. The lobby consisted of small cocktail tables, each of which had a bell for summoning one's server. Lopez rang the bell at his table and gestured for the club's employees to do the same. Immediately, there were more than 30 bells ringing. The deafening noise got management's attention. The contract violations ceased.
Carlos Lopez began his career in the industry as a server in private clubs and at the Warwick Hotel. His stellar performance as a delegate drew the attention of union officers and he was brought on at the Union as a Local 6 Business Agent in 1969. A relatively short time later, he was named Vice President of the Club Department. He served as a Local 6 Vice President until his retirement in 2002.
"I remember Carlos Lopez leading a group of us to the old 59th Street Coliseum in 1995 to have a strike authorization vote," Marcante added. "As we were marching there Carlos kept assuring us that if we stayed united and committed we would win a good contract. He turned out to be very right about that."
"I knew Carlos Lopez from the day I came on the staff at the Union as a dues clerk in 1978," former HTC President and Local 6 Business Manager Peter Ward remembered. "One could not have received a better education about the value of union solidarity than what Carlos Lopez taught so many of us."
Ward added that Lopez was instrumental in working with other Local 6 officers to assist Local 610 in Puerto Rico. "Local 610 got its name from Local 6. That's because Local 6 officers like Armando Betances worked hard to help form that union and officers like Carlos Lopez worked equally hard to support it. As many hotel workers in Puerto Rico are well aware, Carlos Lopez helped Local 610 win contracts with some very difficult hotel managements. The workers in San Juan really appreciated how hard Carlos worked on their behalf, just as workers in New York City did."
"My father took me to picket lines and I witnessed how many long hours he and the other Union officers worked to represent members," Lopez's son, Carlos Jr., recalled. "People like Ernie Peters, Roy Broomfield, Vito Pitta and my dad were old school professionals who gave it their all on behalf of the Union's membership. They helped make the Union was it is today."
Lopez Jr. added that his father was very proud to work for the Union. "The Union was his life. It was certainly not a nine-to-five job with weekends off, but that didn't matter to him. What mattered were the members, and he was totally committed to them."
"I did not have the chance to work personally with Carlos Lopez but I certainly have heard plenty about him," HTC President and Local 6 Business Manager Rich Maroko said. "I sincerely hope that members recognize that the strong and effective Union we have today came on the shoulders of those who preceded us, people like Carlos Lopez. On behalf of our entire staff and members we express our deep appreciation for his more than three decades of service to our Union and we extend our sincere condolences to Carlos Lopez's family and friends. We will always remember him."