Bienvenido Estévez, Yale Club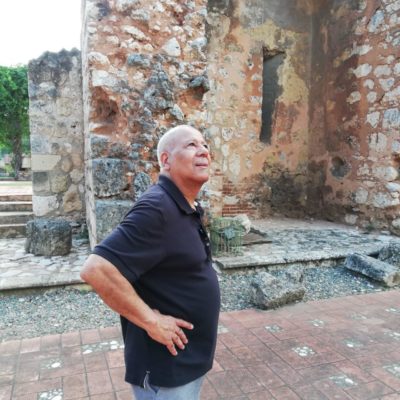 We are sad to announce the passing of Bienvenido Estevez, a steward at the Yale Club and a member for over 30 years.
Bienvenido's wife, Milagros Estevez, remembers Bienvenido as a loving husband, father and a giving man. "He was an exemplary husband, and an exemplary father. He had an amazing mind and an amazing heart. Even when he wasn't working, he was a generous man. If he only had ten dollars to his name, he would give nine of those dollars to someone who needed them. That was the kind of man he was."
Marco Salazar, a steward at the Yale Club, shared some of his memories with Bienvenido. "I knew Bienvenido and I worked side by side since 2007. He was a great companion and a father figure to me. I would always come to him for advice - we all did! He was generous with his time. I will miss him a lot."
Roman Sanchez, another friend and coworker, remembers Bienvenido as always keeping things light on the job, "I worked with Bienvenido for 10 years. I never had a bad moment when I was with him. We were always joking around. It was just joy and good laughs. He was an excellent friend."
Union Delegate and coworker, Oscar Almonte shares, "You won't find anyone who has a bad word to say about Bienvenido. He was a committed worker, a great companion and was very funny. May God bless him and open the doors to heaven in the sky."
Bienvenido's three children, Carlos, Jonathan and Karina, shared some lessons, love, and memories of their father. "It feels strange to write or think about our father, Bienvenido Estevez, in the past tense. The light of his being is the kind of light that lives on beyond time. We have learned many invaluable lessons from our father. We have learned that life is short and can be brutal, but, despite it all, there is nothing that love, humility, and a good laugh can't fix. We, along with anyone that has had the privilege to share time with our dad, will miss him dearly. In these most difficult times people often say to forget the bad times and focus on the good times. With our dad, there simply were no bad times. Our dad has taught us what it means to be an excellent friend, a hard worker, an incredible father, and above all an exemplary human being. We are so grateful for the outpouring of love from all that have known him. We will always treasure all the words of encouragement, pictures, videos, and fun anecdotes all of you—his beloved friends and colleagues— have shared with us. While we will all feel the absence of his light, let us carry the love, joy, and compassion he shared with us all alive in our hearts. We love and miss you, dad. Until we meet again. Your loving children, Carlos, Jonathan, and Karina"