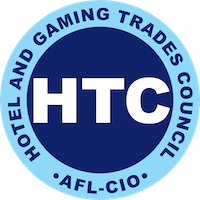 DELEGATES AND ASSISTANT DELEGATES
Union Delegates and Assistant Delegates are members who work in the shops but who also act as unpaid rank-and-file union representatives. They are appointed by NYHTC to represent the workers in specific departments, classifications and shifts. Non-binding referendum votes are often taken to ascertain the preference of the members regarding the appointment of Delegates and Assistant Delegates.
Delegates and Assistant Delegates form the "first line of defense" in the grievance and contract enforcement process. Members should normally raise any grievance they have with their Delegate or Assistant Delegate first. To ensure their ability to vigorously represent the workers, Delegates and Assistant Delegates enjoy enhanced contractual protections covering discharge, suspensions, and layoffs.
Employees represented by our union and covered by an HTC contract have a right to insist that a Delegate or Assistant Delegate be present to represent them in the event of any disciplinary meeting with management.
BUSINESS AGENTS
Your Business Agent is a union representative assigned by NYHTC to your shop to enforce your rights under the contract, and to handle grievances.
Whether employed by NYHTC or an affiliated local, Business Agents perform their representational duties under the aegis and direction of NYHTC. If you need to contact your Business Agent, call NYHTC at 212-245-8100 to get his or her name and phone number.
REGIONAL DIRECTORS
The union representatives who directly supervise the contract enforcement and representational work of the Business Agents are the NYHTC Regional Directors. To contact your Regional Director, call 212-245-8100.
H.E.A.T. SUPERVISORS
H.E.A.T. Supervisors are the union representatives responsible for "internal organizing" (i.e., building and strengthening the unity and militancy of the union's membership). The H.E.A.T. Supervisors coordinate the union's rank-and-file leadership organization - the H.E.A.T. System (H.E.A.T. stands for Hotel Employees Action Team).
It's the job of the H.E.A.T. Supervisors (and the H.E.A.T. System) to keep the membership of the union informed, organized, and united, and to mobilize our members when unified action is needed (for example: in a contract fight or a drive to organize a non-union hotel).
For more information about the H.E.A.T. System, click HERE.
To contact your H.E.A.T. Supervisor, call the H.E.A.T. Department at 212-245-8100.
ORGANIZERS
The NYHTC Organizing Team is responsible for "external organizing" (i.e., helping non-union hotel workers to unionize their hotels). One of the most important reasons the members of our union enjoy the best contract for hotel workers in the world is that New York's hotel industry is so heavily unionized. The term used to describe the percentage of the industry that is unionized is: UNION DENSITY. In cities where the hotel industry has a high union density, hotel workers have higher wages and better benefits. In cities where the hotel industry has low union density, hotel workers have low pay, and few or no benefits. It is therefore not coincidental that here in New York the industry has the highest union density and the best union contract. In order to continue to negotiate great contracts for our members, it is vital that our union continue to organize any new hotels and all the existing non-union hotels. Union members who have any information that might help the union organize non-union hotels should contact the union's Organizing Team at 212-245-8100.