New York Unemployment Tips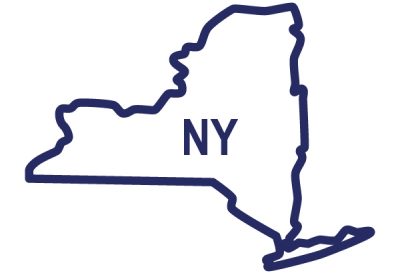 1. Q: Where do I apply for unemployment?
A: In general, you should apply for unemployment in the same state in which you work. So even if you live in New Jersey, if you work in New York, you should apply in New York.
IMPORTANT: Due to increased demand owing to the ongoing coronavirus crisis, the New York State Department of Labor has announced changes to how it accepts new unemployment applications. From now on, you should apply on specific days relating to the FIRST LETTER of your LAST NAME.
The days are as follows:
MONDAYS: Claimants with last names starting with A - F
TUESDAYS: Claimants with last names starting with G - N
WEDNESDAYS: Claimants with last names starting with O - Z
If you have missed your filing day then you should apply on Thursdays and Fridays.
Filing later in the week WILL NOT DELAY PAYMENTS or affect the date of an individual's claim, since all claims are effective on the Monday of the week in which they are filed. Officials have said that

 more government staff have been added to process applications, but to make things more efficient for everybody, claimants must file on the days they are specifically allotted.
To create an account to apply for unemployment online go to: https://applications.labor.ny.gov/IndividualReg/ You can also call (888) 209-8124 Monday thru Friday 8:00 AM - 5:00 PM for assistance registering over the phone.
2. Q: I have tried filing for unemployment and I have not been able to reach them. Will my unemployment benefits be affected?
A: We have been hearing from many members about the difficulties you are having filing your unemployment claims due to the New York State Department of Labor's website and phone lines being overwhelmed. We have been monitoring this issue and want to inform you all that it has been announced that any claim you file will be backdated to the date you became unemployed. If you are eligible, you will be paid for all benefits due.
This problem posed the question whether workers who haven't been able to file because of these technical difficulties will be penalized. Normally, if you wait to file an unemployment claim, you're not eligible to collect benefits for the period before you filed. The Department of Labor has announced that that rule has been waived in this case because the delays in filing are being caused by the volume of claims, not any lapse on the part of the claimants.
Please see the attached link to the DOL website:
https://labor.ny.gov/ui/how_to_file_claim.shtm
If you have any questions, please contact us at (212) 245-8100.
3. Q: Can I apply for unemployment if I have been temporarily laid-off?
A: Yes, you can and it is crucial that you apply as soon as (but not before) you are laid-off. If you apply before you are laid off (even if you know you will be laid-off), they will very likely reject your application and that will delay when you can start collecting your benefit. New York State normally requires a one-week waiting period for which you will not receive unemployment benefits. However, we just learned that the State has decided to waive this one-week waiting period if you are out of work because of Coronavirus.
4. Q: Can I apply for unemployment, and how do I know I'm eligible for unemployment in New York State?
A: To be eligible, you must meet the following two requirements: First, your unemployment must not have been due to something that was your fault (like being fired for misconduct on your part). So, in this case, you all meet this requirement, because layoffs are occurring due to Coronavirus, and not something you did wrong. The second requirement is more complicated and depends on when and how much you worked in New York and what your earnings were. Generally, to qualify for benefits:
You need to have worked in jobs covered by unemployment insurance in New York for at least some period of time, in at least two of the following calendar quarters:

October 1 – December 31, 2018;
January 1-March 30, 2019;
April 1-June 31, 2019;
July 1-September 30, 2019.

You must have earned $2,600 or more in at least one of the above-listed quarters.
You must have made a total of at least one and a half (1 1/2) times the amount you earned in the quarter in which you made the most money during that year. So, for example, if you earned $8,000 in your highest-paid quarter, you need to have earned a total of $12,000 between October 1, 2018 and September 30, 2019.
If you do not meet the above requirements, it is possible that you still qualify under New York State's "alternate" calculation, which is determined by a complex formula. For detailed information on the alternate calculation, call (888) 209-8124 Monday thru Friday 8:00 AM - 5:00 PM.
5. Q: What information do I need to have when I apply for unemployment?
A: Make sure you have the following information when you apply (either online or over the phone):
Your Social Security number,
Your Driver license ID number (if you have one),
Your complete mailing address,
A phone number where you can be reached,
A list of all employers that you've worked for in the past 18 months (even if the job was outside of New York State), and
Your most recent employer's Employer Registration Number or Federal Employee Identification Number (FEIN), (which you can find on your W-2.)
6. Q: How should I respond if unemployment asks why I'm not working?
A: Since you are being laid off, the correct answer is "lack of work." If you mistakenly give a different answer, your unemployment benefits may be denied.
7. Q: What if I need a translator's help to apply for unemployment?
A: Then you should probably apply on the phone, with the help of someone you know who can translate for you. If you are represented by our union and need translation help to apply, we will help you and and you should call (212) 245-8100 and leave a message.
8. Q: How frequently will I receive my unemployment benefit check?
A: Every week you "certify" to unemployment that you are at least partially unemployed.
9. Q: How much money will I receive in weekly unemployment benefits?
A: The amount of money you receive in unemployment benefits is based on how much you were earning while you were working. The Department of Labor will calculate your weekly benefit amount. Before you apply, you can use an online calculator on the Department of Labor's website (https://labor.ny.gov/benefit-rate-calculator/) to get an estimate of how much in benefits you will receive each week.
10. Q: How long can I continue to receive unemployment benefits?
A: Assuming you're eligible, your unemployment claim entitles you to a total of 26 weeks of unemployment benefits over a period of one year from the Monday following the week you file the claim. Theoretically, if you are unemployed for 3 weeks and you go back to work for 4 weeks and then you are unemployed again, you would be entitled to another 23 weeks of unemployment benefits on the same unemployment claim. If you have already collected unemployment during the one year time period that will count against the 26 weeks that you're entitled to. If you remain unemployed after the expiration of the year, and had sufficient employment over that year, you may qualify to file a new claim.
11. Q:What do I need to do to continue receiving unemployment insurance benefits?
A: To continue receiving unemployment, you need to claim your benefits each week online by using your NY.GOV ID or by phone at (888-581-5812.) This is very important. You must "certify" each week in order to demonstrate that you are still unemployed. Certifying is essentially claiming your unemployment benefits. If you fail to certify each week, you will not receive benefits for that week.
12. Q: What if I get called back to work part-time for some weeks while I'm collecting unemployment?
A: If you work 4 days or more in a week, or earn a gross of $435 or more in a week, you cannot get unemployment benefits for that week. If you work 3 days that week, you will get 25% of your benefit. If you work 2 days that week, you will get 50%. If you only work 1 day a week, you will get 75%.