The Guardian: Strikes erupt as US essential workers demand protection amid pandemic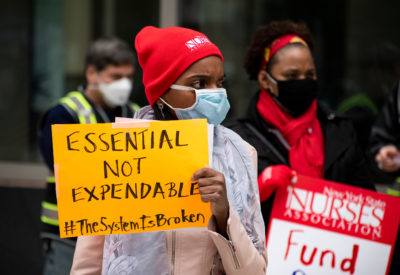 May 22, 2020 12:30 PM
The coronavirus crisis has exacerbated abuses in non-union workplaces which were widespread even before the pandemic: low-pay, dangerous and unhealthy working conditions, no paid sick leave, and unaffordable or inadequate healthcare. In a courageous and difficult push, essential workers across the country have walked off the job on strike, refusing to tolerate the corporate indifference and in many cases, outright contempt for worker's wellbeing.
In this article from the Guardian, fast-food worker Ieshia Townsend explains "Workers like me are going on strike because McDonald's and other billion-dollar corporations do not care about us as workers. They don't care if we're safe on the job, they don't care if we're sick on the job."
The Hotel Trades Council supports these brave non-union workers as they do the frightening and difficult thing to stand up and fight for themselves, for their co-workers, and for their families.
The Union leadership, organizers, and members who have gone out on strike know just how hard this is. But we also know the power of this collective action. A strike is the ultimate tool to force companies to negotiate and give-in to worker demands. In all of our master contracts, we give up the right to strike in exchange for expensive wages, benefits and other powerful, but peaceful, tools that force the industry to treat us as equals, like our grievance and arbitration rights. This goes to show that, on the other side of arduous strikes, there is empowerment.
To read the full Guardian article, click here.