Stalled HEROES Act Would Benefit Working People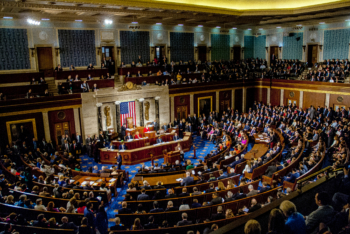 July 2, 2020 12:56 PM
The HEROES Act contains essential relief for working people who have lost income, face evictions and foreclosures, and need protections as they return to work. The bill also extends important protections from the CARES Act, which was passed earlier in March. Our Union is demanding the passage of the HEROES Act as the vast majority of our members have been laid off due to the crisis. The Act contains an extension of the extra $600/week in federal unemployment benefits, which would otherwise expire on July 31, 2020, and is absolutely essential for our members to make ends meet.
With COVID-19 cases increasing in many states that failed to adequately respond to the pandemic, and quarantine orders for travelers in place in New York and New Jersey, recovery in our industry, which heavily relies on tourism, is still far off. In New Jersey and New York City, Governor Phil Murphy and Mayor Bill de Blasio have delayed the reopening of indoor dining indefinitely and Broadway shows will not open their doors to live audiences earlier than January 3, 2021. To feed their families and pay their bills, hospitality workers need the extra $600 unemployment benefits to be extended, as they are in this bill, until at least January 31, 2021.
The HEROES Act Includes Essential Relief for Working People
On May 15th, 2020, the House of Representatives passed the HEROES Act. In its current form, the HEROES Act includes the following elements:
Provide a second round of direct payments, based on income and family size, with up to $1,200 for individual taxpayers and up to $6,000 per family. These checks would go to eligible taxpayers with a taxpayer ID (including undocumented immigrants).
Fund grants for employers to subsidize premium pay for individual essential workers of up to $10,000.
Provide funding and expand eligibility for absentee voting and vote-by-mail in the November general election.
Expand employee rights to take sick leave and FMLA for Coronavirus-related reasons.
Extend the current $600 weekly federal unemployment benefit from July 31, 2020 until January 31, 2021.
Extend and expand the current federal moratorium on evictions and foreclosures in some types of federally-subsidized housing and federally-backed mortgages.
Allocate $875 billion in funding to state and local governments to help maintain public services.
Provide funding for expanded testing and treatment for the Coronavirus and increased production of personal protective equipment.
Pay premiums for laid-off employees eligible for COBRA through January 31, 2021.
The HEROES Act is Stalled in the Senate
As of now, over a month after the passage of the bill in the House, Senate Majority Leader Mitch McConnell (R-KY) has refused to bring the HEROES to the Senate floor to be debated or voted on. Even after the Senate voted to extended the Paycheck Protection Program an additional five weeks, Senator McConnell has argued that extending the $600 in weekly unemployment benefits discourages people from returning to work. We know that for tens of thousands of our members, and for millions of Americans, going back to work is not an option. Thats why working people need to put pressure on the Senate to pass the HEROES Act as it currently stands.
All four Senators in New York and New Jersey: Senators Cory Booker (D-NJ), Bob Menendez (D-NJ), Kirsten Gillibrand (D-NY), and Chuck Schumer (D-NY have committed to support the HEROES Act. New York and New Jersey residents can still do their part to call your Senator and urge them not to agree to watered down version of the Act and to encourage their Senate colleagues to pass the HEROES Act.
For those who live in Pennsylvania and Connecticut, Senators Robert Casey, (D-PA) and Richard Blumenthal (D-CT), Senator Christopher Murphy (D-CT) also support the current bill. Senator Patrick Toomey (R-PA) does not support the passage of another stimulus bill. Call your senators and remind them what additional relief would mean to you and your family.
New York:
To contact US Senator Chuck Schumer call (202) 224-6542 or visit www.schumer.senate.gov/contact/email-chuck
To contact US Senator Senator Kirsten Gillibrand call (202) 224-4451 or visit www.gillibrand.senate.gov/contact/email-me
New Jersey:
To contact US Senator Cory Booker call (202) 224-3224 or visit www.booker.senate.gov/?p=contact
To contact US Senator Robert Menendez call (202) 224-4744 or visit www.menendez.senate.gov/contact
Pennsylvania:
To contact US Senator Robert Casey, call (202) 224-6324 or visit www.casey.senate.gov/contact/
To contact US Senator Patrick Toomey, call (202) 224-4254 or visit www.toomey.senate.gov/?p=contact
Connecticut:
To contact US Senator Richard Blumenthal, call (202) 224-2823 or visit www.blumenthal.senate.gov/contact/
To contact US Senator Christopher Murphy, call (202) 224-4041 or visit www.murphy.senate.gov/contact