Peter Ward and HTC Administration are Re-elected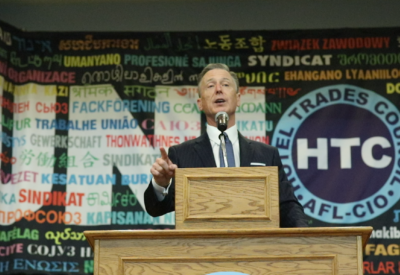 May 11, 2020 4:35 PM
Peter Ward and the entire HTC administration have been re-elected to office by acclamation. The administration will serve a three-year term of office.

Due to the COVID-19 crisis and the New York prohibition on gatherings of more than 10 people, an amended nominations and election process was held instead of having the traditional meeting for nominations of officers. Notice of the amended process was mailed directly to all members, and nominations, acceptances of nominations and seconds of nominations for all HTC offices were conducted by mail. The entire process was overseen by Maralin Falik and Global Election Services, Inc., as well as the HTC Election Committee, which is comprised of HTC members.
Ward and the HTC administration ran as a slate, called HTC Unity. The nomination of that slate was the only one received by Global Election Services. No other slate or individual nominations were received. Global Election Services then conducted an examination of each person on the HTC Unity slate to ensure that they were HTC members in good standing.
"Global Election Services certifies that Maralin Falik conducted a verification of eligibility of the nominator, the candidates and all members who seconded the HTC Unity slate's nomination on April 28, 2020 by requesting all dues records," Ms, Falik wrote in her report. "Global Election Services further certifies that all candidates representing the HTC Unity slate were deemed eligible and were uncontested for each of their positions. Global Election Services further certifies that inasmuch as there were 34 valid candidates for the 34 positions available, all nominated candidates were unopposed and elected by acclamation." Global Election Services' certification was approved unanimously by the HTC Election Committee.
The following HTC members in good standing were elected on April 28:
President: Peter Ward
Executive Vice President: Chris Cusack
Secretary-Treasurer: Kuba Brown
Recording Secretary: Richard Maroko
General Organizer: James Donovan
Vice Presidents:
Richard Lanigan
Vanessa Meade
George Padilla
Declan Tracey
Lance Van Arsdale
Enlarged Council:
Nicole Aigoro
Curtis (Nick) Andrews
Francisco Avalos
Miguel Castaneda
Eddie Cedeno
Kelly Drummond
Chris Erikson
Moustafa Ghoneim
Hazel Hazzard
Kazi M. Hossain
Larry McNeil
Steve Miller
Marie Richard
Jim Robson
John Ruben
Nick Ruiz
Julia Rybak
Harry Rygor
Judith Seemungal
Randy Sullivan
Billy St. Pierre
John Turchiano
Anthony Wilson
Ha Chhao Yi
The re-election of Ward and the entire HTC administration comes at a time when the union faces an emergency more serious than any it has faced in its 81-year history. At this time more than 90% of the union's members are unemployed because of the closing of most hotels and all casinos due to the coronavirus and the deadly COVID-19 illness it causes. Fortunately, the union has been able to extend family healthcare benefits and has taken other steps to protect and assist members and their families during this crisis.
"It is certainly evident that our union faces unprecedented challenges right now," Peter Ward said. "I am confident that our administration has the best people possible to help steer our union through this exceedingly difficult time, and I thank HTC members for this vote of confidence in the re-election of the HTC Unity slate. You can count on us to work tirelessly and to do everything possible to return you to your jobs and to restore our i­­ndustry to where it was before COVID-19 struck. It will take a monumental effort to achieve this goal, but I assure all that this administration is ready to make that effort."