NY Times Honors HTC Member Kamal Ahmed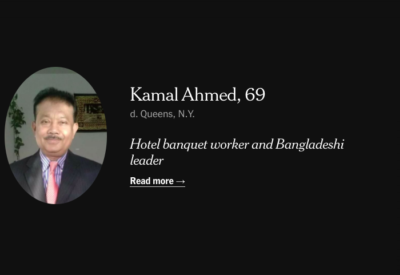 May 20, 2020 6:15 PM
We are very sad to acknowledge the passing of HTC member Kamal Ahmed. As the longtime leader of the Bangladesh Society of NY, Kamal will be remembered for creating "a sense of belonging" for fellow Bangladeshi immigrants. Kamal was a proud union member of 40 years, having worked first as a busboy and later a banquet worker at the Millennium Hilton One UN Plaza.
Kamal's obituary is part of a New York Times series titled "Those We've Lost," which aims to put names and faces to the growing numbers of those passing away during the current pandemic. Click here to read the full article on the New York Times website.
Sadly, Kamal is one of a number of members who have lost their lives during this difficult time. To read tributes remembering and celebrating the lives of our fellow Union members, click here.