HTC advocates for hospitality workers to be vaccinated early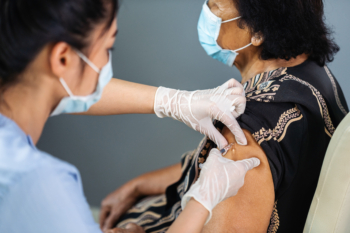 December 26, 2020 2:41 PM
The United States Food and Drug Administration (FDA) has approved two vaccines for emergency use to prevent COVID-19, the first from Pfizer-BioNTech and the second from Moderna. The COVID-19 vaccine will protect individuals from getting sick from this deadly virus and will undoubtedly aid in the economic recovery of our region's hospitality and gaming industries.
HTC President Rich Maroko has been urging both New York and New Jersey to prioritize hospitality workers in each state's vaccine distribution plans.
The CDC recommends how to prioritize vaccine distribution
Over the weekend, the Center for Disease Control Advisory Committee on Immunization Practices produced non-binding recommendations on how to distribute the vaccine. Ultimately each state will have the power to make the final decision on how to prioritize vaccine distribution.
The CDC's guidelines for vaccine distribution are as follows:
Phase 1a: Healthcare workers and first responders
Phase 1b: Frontline non-healthcare essential workers and adults over the age of 75
Phase 1c: Other essential workers, adults 65 and older, and people with underlying medical conditions that put them at higher risk of severe illness from COVID-19
Finally, the general public will receive the vaccine sometime after phase 1 is completed.
Inoculations for phase 1a, healthcare workers and first responders have already started across the United States.
Hotel workers face greater exposure to COVID-19
During this crisis, many hotels have converted to alternative uses including housing COVID-19 patients, medical professionals, the homeless and those in quarantine. Thousands of HTC members have continued to work under these circumstances, exposing themselves to COVID-positive individuals and blurring the line between hospitality and health care work.
Even when hotels are used for their intended purpose, to house travelers, the risk to workers is still high. Hotel workers are routinely caring for guests immediately after their arrival from out-of-state, which both New York and New Jersey deem high-risk enough to ask travelers to quarantine upon arrival.
Our Union is advocating for hospitality workers to be prioritized
The Union has been working tirelessly to advocate for hospitality workers in New York and New Jersey to be appropriately prioritized in vaccine distribution plans. President Maroko has reached out to the New Jersey Health Commissioner Judith Persichili and the New York Health Commissioner Howard Zucker urging them to prioritize hotel workers in phase 1b of vaccine distribution.
Benefit Funds CEO Dr. David Jacobson made sure the health centers would be approved to distribute the vaccine when it became available. On December 15th, the Benefit Funds were approved by the New York City Department of Health and Mental Hygiene as distribution centers once the vaccine is available for HTC-represented workers.
The vaccine offers hope, but we must remain vigilant
The availability of the COVID vaccine will undoubtedly encourage the recovery of the hospitality and gaming industries in New York and New Jersey and offers hope for our members that a return to normalcy is on the horizon. Our Union believes that vaccinating the hospitality workforce in New York and New Jersey early will further boost the confidence of tourists to return to our region and propel the city's economic recovery.
But we must not relax our safety protocols. Public health experts have warned that even as vaccination efforts continue, we must not relax common-sense measures to prevent infections including wearing a mask, hand washing, and social distancing.
Stay up-to-date
For more information about the vaccine, please read this Question and Answer on the Benefit Funds' website. The Funds will continue to update it as more information becomes available.
For future updates about the vaccine and distribution efforts, please sign up to receive union text alerts. We will continue to keep union workers informed of Coronavirus-related updates, union news, and upcoming events.