CDC Issues Nationwide Eviction Moratorium Through the End of the Year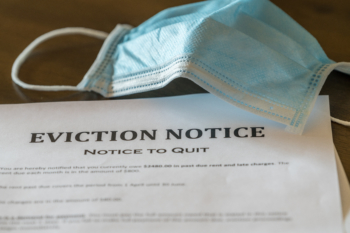 September 16, 2020 2:50 PM
On September 2, 2020, the Centers for Disease Control (CDC) issued a broad nationwide eviction moratorium through the end of the year that covers millions of tenants who have lost income during the pandemic. The CDC wants to prevent the potential spread of COVID-19 if a large number of distressed renters become homeless or move into more crowded housing as a result of being evicted.
Under the moratorium, eligible tenants cannot be evicted for nonpayment of rent until December 31, 2020. Please note, the order does not forgive rent. You are still obligated to pay rent, and can still be evicted after the order expires or for reasons other than nonpayment.
For members who live in New York, New Jersey, and Connecticut:
You are currently covered under state and local eviction moratoriums that have protections equal to, or stronger than, the CDC's moratorium so the nationwide moratorium does not currently apply to you. The nationwide moratorium will cover you if/when the state moratoriums expire, currently October 1 in New York and Connecticut, and November 26 in New Jersey.
At this time, you do not need to provide a signed declaration at this time to your landlord per the CDC's moratorium. To find out more about your rights under your state or local moratorium click here (NY and NJ) and here (CT). When your state's eviction moratorium expires, you can follow the steps below.
For members who live in Pennsylvania:
The statewide eviction moratorium expired on August 31. If you are facing eviction and you live in Pennsylvania, you may be covered by the nationwide eviction moratorium and must provide a signed declaration to your landlord, owner, or person who has a right to have you evicted. Follow the steps below.
Who is eligible for protection under the moratorium?
The eviction moratorium covers the following categories of tenants who are unable to pay for their housing because they lost income due to a loss of wages, hours, work, layoffs, or extraordinary out-of-pocket medical expenses:
Individuals who expect to earn less than $99,000 a year in 2020 or couples who earn less than $198,000
Individuals or couples who have received a stimulus check through the CARES Act.
Individuals who weren't required to pay income taxes in 2019.
What do I have to do to be protected against eviction?
Under the CDC's order, tenants who are protected by the moratorium need to provide a signed declaration to the landlord, owner or person who has a right to have them evicted. The declaration asks you to certify that:
You are eligible under the categories listed above;
You are making your best efforts to partially pay the owed rent or obtain government assistance for rent or housing;
And that you would become homeless or be forced to move into close quarters if you are evicted.
To find a printable version of this declaration, click here.