Anti-Asian Hate Crimes Surge amid COVID-19 Pandemic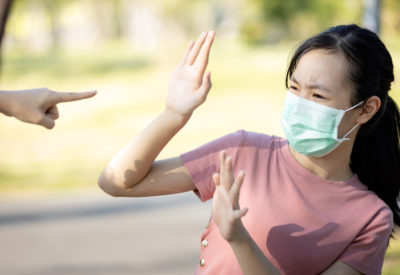 May 22, 2020 10:05 AM
The international medical community has established guidelines to specifically avoid labelling illnesses after locations because doing so has proven to promote another plague – violent hate around the globe. In keeping with that intelligent policy, in February, the World Health Organization (WHO) named the strain of coronavirus which is causing this pandemic "COVID-19."

However, despite that fact, right-wing politicians and media figures are inciting their followers to blame this disaster on anti-Chinese conspiracy theories by frequently referring to COVID-19 as "the Chinese virus," or the "Wuhan virus."
The shamelessly race-baiting rhetoric and ignorance has been responsible for an exponential rise in anti-Asian hate crimes in the last 3 months, including cyber-bullying, verbal abuse, and physical assaults such as being spit on, coughed on, and much worse.
Everyone should support every effort to stamp out this latest disease of the brain and heart.
The Human Toll of Calling COVID-19, "the Chinese virus"
In early February, an Asian woman in a NYC subway station was verbally abused for 10 minutes before she was hit in the head by her attacker. In early April, an Asian woman in Brooklyn was taking out her trash when she was attacked by an unknown assailant with acid, suffering chemical burns to her face, neck and back. On May 3, 2020, an unidentified assailant tried to pull and Asian man off a NYC subway car, yelling "Hey Chinaman, you're infected. You need to move to another car," and then threatening to beat him up.
In one of the most violent incidents to date, on March 14, 2020, three members of an Asian-American family, including 2 small children, were stabbed while shopping in a Sam's Club in Midland, Texas. The suspect "allegedly wanted to kill the family because he thought they were Chinese and were infecting people with the coronavirus."
Reporting and documenting anti-Asian hate crimes
To keep track of incidents of anti-Asian hate crimes, including verbal and physical abuse, as well as cyber attacks, the Asian Pacific Policy and Planning Council (A3PCON), together with the Chinese for Affirmative Action (CAA) and San Francisco State University's Asian American Studies Department, launched a reporting center called "Stop APPI Hate".
In the first 4 weeks since its inception, Stop APPI Hate has received almost 1,500 reports of verbal harassment and physical assaults. In March of 2020, it was estimated that attacks against Asian Americans were occurring at the alarming rate of about 100 per day.
Each of these 1,500 incidents is a distressing and terrifying experience for the victims.
According to Dr. Russell Jeung, the chair of Asian American Studies at SFSU, "the high number of hate incidents, especially assaults, reflects the impact of China-bashing by politicians." Dr. Jeung further explained that the "verbal harassments are hate-filled and horrific, often accompanied with spit or coughing. They're not minor, but traumatizing acts of terror with Asian-American children and elderly often present."
What causes this sickness?
The Federal Bureau of Investigation recently issued a warning that hate crimes against Asian-Americans and danger to their communities will continue to increase due to the spread of the coronavirus. The FBI's intelligence report based their assessment on the assumption that "a portion of the US public will associate COVID-19 with China and Asian-American populations" and the mistaken belief by many that Asian individuals are more likely to be infected and carry the Coronavirus.
It may be too optimistic to think that these haters are merely ignorant and really believe that people of Asian descent are infectious. Isn't it more likely that, like a virus largely suppressed within society for decades, the extent and viciousness of the bigotry that has always plagued our history was partially hidden, just below the surface, waiting for the right conditions to emerge again on an epidemic scale? It only took a few depraved "influencers," to open the floodgates of pent-up hate.
Many elected officials are standing up against the hate
Representative Grace Meng (NY 6th District) has introduced a resolution in Congress that calls for federal law enforcement, in cooperation with state and local officials, to investigate credible reports of hate crimes against Asian Americans, collect data of these crimes, and hold perpetrators accountable.
Congresswoman Meng explains "the increased use of anti-Asian rhetoric, particularly from our nation's leaders, and their use of terms like 'Chinese virus,' 'Wuhan virus,' and 'Kung-flu,' is not only irresponsible, reckless, and downright disgusting, it threatens the safety of the Asian American community; such language demeans, disparages, and scapegoats Asian Americans."
Massachusetts Senator and former presidential candidate Elizabeth Warren added to the chorus of elected officials calling for an end to calling COVID-19 "the China Virus" by tweeting "A deadly infectious disease cannot be fought with bigotry…the coronavirus does not discriminate. Bigotry against people of Asian descent is unacceptable, un-American, and harmful to our COVID-19 response efforts."
On March 23rd, New York Attorney General Letitia James set up a special hotline (1-800-771-7755) for New Yorkers to report hate crimes and bias incidents. "No one should live in fear for their life because of who they are, what they look like, or where they come from," James said.
We are part of the fight
HTC has fought against racism and bigotry from the day it was founded. HTC-represented workers have the nation's strongest protections against prejudice and bias when they're at work. If you face discrimination or harassment on the job, please contact your Union Representative immediately at (212) 245-8100.
"At a time of intense panic and fear in our country, this rhetoric is dangerous and adds unnecessary stress to Asian Americans in our communities. Unfortunately, racism is still pervasive throughout our society. It is our absolute responsibility to confront it wherever we see it. At the very least, our Union is in a position to make sure that our members can stand up to racism and discrimination on the job, and that the perpetrators are punished" noted HTC President Peter Ward.