Yotel Union Members See Light at End of Tunnel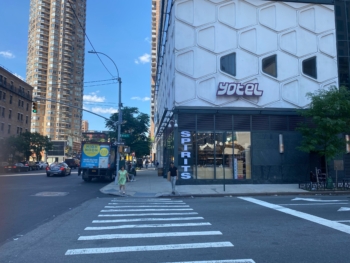 HTC members from Yotel on 42nd street recently triumphed in their legal fight against Yotel owner and anti-union law firm, Baker Hostetler. These Union members were left without any certainty about their futures during a pandemic that ravaged the country
During the pandemic, Yotel eliminated an entire department without bargaining with the Union. Not only was the failure to recall a whole department of workers with families to feed during a pandemic immoral, but it was also in violation of a 2016 agreement between the hotel and the Union.
In 2016, Yotel came to an agreement with the Union to maintain 14 'Ground Control' workers on payroll at any time.
Since then 'Ground Control' were never laid off, even during periods of low occupancy.; that is until 2020, when the Yotel's Baker Hostetler lawyer announced that the hotel would lay off the entire department.
The Union took the case to arbitration. Although the Yotel attempted legal acrobatics, the contract and the facts could not have been more clear. The Independent Chairperson (IC) ruled in favor of the Union and ruled that Yotel violated the contract by failing to recall 'Ground Control' employees. In the IC's ruling, the arbitrator states that "[the] words [of the 2016 agreement] could not be any clearer.". The IC ordered that Yotel would have to recall the Ground Control employees and pay backpay and going forward maintain the 14 member department that the contract mandates.
The Union won arbitration in April 2021, but by May 2021 Yotel had indicated it would not be in compliance with the legally-binding arbitration and would not recall the 'Ground Control' department.
In the second emergency hearing requested by the Union, the IC decided the proper remedy for the Hotel's breach of contract. The IC awarded 'Ground Control' members backpay starting from January 7, 2021 until Yotel is in compliance.
In a last-ditch attempt to pretend Yotel is above the law, losing firm Baker Hostetler filed a petition to vacate the arbitration award in federal court. One would think the lawyers of Baker Hostetler would have stopped wasting the time and money of Courts and their clients by throwing HailMarys. The US District Judge explained that Judicial review of arbitration awards are purposefully limited so that it doesn't interfere with efficient dispute resolution that avoids long and expensive litigation. The Judge denied the Yotel's motion to vacate and confirmed the IC awards.
On a conference call with Union President Rich Maroko, the 'Ground Control' employees learned that they won in Federal Court. There were cheers and thank you's all around.
Dan Nitoi, who worked at Yotel for over ten years, said, "it always feels like corporations are above the law, and with this legal win for us, maybe workers are finally having their day in the sun." Our Union will continue to fight unscrupulous hotels and protect our members' contractual rights.