Workers at the TWA Hotel Vote 128 to 0 to Ratify First Union Contract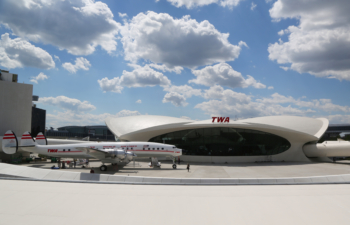 July 15, 2020 7:18 PM

On June 17th, 2020, workers at the TWA Hotel unanimously voted to ratify their first union contract by a resounding 128 YES to 0 NO. The contract victory comes less than one year after TWA workers first won HTC representation through a card check neutrality agreement—an agreement that made sure the workers at TWA could choose to join our Union easily and without fear. Now, the TWA Hotel is signed onto the Union's Industry Wide Agreement ("IWA"), the master contract that HTC members have fought to defend and improve over the past 80 years. The new contract includes immediate wage increases averaging $5.10/hour, free family health benefits, safety protections during the Coronavirus, and a long list of additional rights.
With Labor Peace, the Choice was Simple
While the TWA Hotel has been open for just over a year, the goal to make the management company sign a labor peace agreement has been a priority for our Union for many years. Back in 2015, nearly four years before the hotel even opened, the leadership of our Union negotiated a card check neutrality agreement with the operators of TWA to make sure future employees would have the right to decide to join a union easily and safely.
"All too often, workers don't even attempt to organize a union despite poverty level wages and dangerous working conditions out of fear that they will lose their jobs in retaliation," said HTC Recording Secretary and General Counsel Rich Maroko. "Our Union helps workers endure these campaigns and beat the odds, but if we have the opportunity to remove these obstacles, we do. In this case, we were able to negotiate a card check neutrality agreement and the workers had a fair shot at joining our Union."
This card check neutrality agreement gave employees the right to meet with union organizers at the hotel on non-working time. It also allowed employees to vote for the union simply by signing a union card. Most importantly, the agreement prohibited management from running a typical anti-union campaign to deceive and intimidate employees. Without fear influencing their decision, over 80% of the workers signed union cards on the first day of the organizing drive. On July 25, 2019, TWA Hotel workers in Banquets, Engineering, Front Desk, and Housekeeping officially became represented by our Union.
Signing the Industry Wide Agreement
Less than a year later, and in the midst of the Coronavirus, no less, our Union's leadership negotiated the TWA Hotel's first contract which adopts the Industry Wide Agreement (the "IWA"). The IWA is considered to be the best contract in the world for hotel workers and introduces dozens of new rights and protections for union workers at the TWA Hotel.
Because they've won this contract, TWA Hotel workers now have extensive job security. Not only do the employees now have the right to just cause (which means that the employer has to be able to prove to an impartial arbitrator and through a fair process, if an employee deserves to be fired or disciplined), but they have far broader job security through protections against losing their job due to subcontracting or to changes in the hotel operator or owner in the event the hotel is sold or changes managers in the future.
The IWA also provides workers at the TWA Hotel with seniority, scheduling, and recall rights. Under the contract, management is required to post the schedule 5 days in advance giving employees more control over their schedule and their lives outside of work. And as work becomes available again, TWA Hotel workers have a right to be called back to work in order of seniority.
Immediate Wage Increases Averaging $5.10/hour
Under their new contract, TWA Hotel workers receive immediate wage increases retroactive to January 1, 2020. The average immediate increase is $5.10/hour, with many workers' wages rising by even more. Not even one month after this initial raise, on July 1, 2020, the employees received a second wage increase of $0.65/hour, bringing the new average hourly increase to $5.75. Since the industry has taken a financial hit from the Coronavirus, future wage increases will be negotiated at a later date.
Banquet Cook Chris Currey is making nearly $9 more per hour. "In 2019, I opened the TWA making $19.67 an hour. Now, after the latest increase on July 1st, I'm making $28.05. This increase is a game changer for me and means I will be able to move into a new apartment." Chris then added, "I'm a union man, through and through. I started out in the service industry back in 1994, when I got a job at Tavern on the Green. I know that a victory like this is never handed to us by management—the Union had to fight hard for our dignity and our income every step of the way."
The Option for Free Healthcare
The Union secured the right for TWA Hotel workers to choose to join the Industry Health Plan, as we have in nearly every New York City contract since 1994. Our Industry Health Plan provides totally free medical, dental, and optical benefits to our members, their spouse or domestic partner, and their dependents. TWA Hotel employees who are currently working are immediately able to opt into the Industry Health Plan. Workers who are on layoff will be able to choose between the employer's health plan and the Industry Health Plan upon returning to their jobs.
"Many of us didn't enroll in the hotel's insurance, and couldn't enroll our families, because it was too expensive. We would have barely brought home enough to pay for rent, childcare, and to put food on the table" said Keisha Cumberbatch, a Front Desk Agent at the TWA. "I'm relieved that I no longer have to choose between paying my bills and having health insurance for my family."
The Right to Demand a Safe and Healthy Workplace
One of the most important new gains for TWA Hotel workers, especially now, is the contractual right to a safe and healthy workplace. The IWA requires that the hotel provide personal protective equipment, adequate supplies that the employees need to do their jobs, and gives HTC-represented workers the right to refuse an unsafe work assignment without fear of losing their jobs, a safeguard that goes beyond federal health and safety laws and is unheard of in a non-union workplace. On July 14, the TWA Hotel signed onto the Union's new "Coronavirus Safety Protocol" agreement , which requires new cleaning protocols, enhanced protections on the job, and additional paid time off for COVID-19 testing and recovery.
This agreement extends the Union's original safety agreement, which was negotiated as part of the first contract at the TWA, until midnight on August 1, 2020. The TWA Hotel must continue to follow the guidelines negotiated in the original safety agreement, including to staff public sanitization teams to perform deep cleaning of the hotel's common areas ; use EPA-certified disinfectants that are proven to be effective against the Coronavirus ; maintain a supply of anti-microbial soap and hand sanitizer around the building for guests and workers ; require daily room cleanings and laundry ; and reduce the room quota to allow for a more thorough cleaning by Room Attendants. With these safeguards extended, the hotel will be safer for employees and guests alike, and more members will be able to return to their jobs.
The new agreement also goes further to prevent workers from getting sick and contain any potential outbreaks at the hotel. It requires that the hotel enforce social distancing and make employees and guests wear masks. The TWA Hotel has to provide PPE for workers, including face coverings, gloves, hand sanitizer, and physical barriers at work stations like the Front Desk. Management must wait at least 15 minutes after a guest leaves before sending a Room Attendant to clean an occupied room, providing enough time for any potential viral particles in the air to dissipate. To contain potential outbreaks, the TWA Hotel is now required to conduct daily temperature checks for workers and pay for Coronavirus testing if an employee has a fever above 100.4. If a TWA Hotel employee gets sick, they are eligible for up to 20 additional days of paid time off, so workers will not have to worry about providing for their family while they are recovering.
"Businesses across the country are announcing new safety standards. Without a union-represented workforce, they are simply and often empty promises since employees have no ability to hold the business accountable or to challenge poor protocols in the first place", remarked HTC President Peter Ward. "One of the most important features of our Union's contracts - and our safety agreement - is that HTC members have the ability and a personal incentive to enforce the agreement without any fear of retaliation. I'm very proud of the contract we've negotiated with the TWA Hotel and I'm proud of the role we are playing in creating a safer hotel industry for the employees and tourists returning to New York City."
"When the Coronavirus first hit, I was pregnant and very nervous about getting sick", said Room Attendant and new mom Jazmine Watson. "My baby is 3 months old now and as I think about returning to work, naturally, I'm nervous about bringing the virus home. I was really relieved to learn that under our Union contract, the hotel will have to provide us with protective equipment, give us additional time to deep clean the guest rooms, and make sure that everyone is wearing masks in the public areas of the hotel."
6 Additional Paid Days Off and 3 New Holidays
The IWA provides eight (8) sick days per year, three (3) personal days per year, and paid vacation time based on years of service. As a result, most workers at the TWA Hotel will receive 6 additional paid days off immediately.
As workers accrue seniority, paid time off will increase as follows at the TWA Hotel:
| | | |
| --- | --- | --- |
| Years of service | Combined PTO, before the IWA | New Combined PTO, under the IWA |
| 1 | 15 days | 21 days |
| 2-4 | 15 days | 21 days |
| 5-6 | 20 days | 26 days |
| 7-10 | 20 days | 26 days |
| 11-14 | 25 days | 31 days |
| 15-19 | 25 days | 31 days |
| 20+ | 25 days | 36 days |
Additionally, TWA Hotel workers will receive three (3) more paid holidays: Martin Luther King Jr. Day, President's Day, and Christmas Eve. This brings the total to nine (9) paid holidays each year.
Enforcing the Contract
All of these powerful protections can be enforced through the IWA's grievance and arbitration procedure. TWA Hotel workers will soon be able to nominate their co-workers to serve as union delegates, who will be charged with enforcing the contract and the newly negotiated safety agreement day to day at work. Business Agent Miguel Castañeda will help implement the new union contract and will train and back up union delegates.
For any disputes that can't be resolved through negotiation, the Union can also bring grievances to the Office of the Impartial Chairperson, where a neutral arbitrator will make the final decision about any disputes. Not only are the arbitrators well versed in our Union's contracts and the ins and outs of the work that our members do, but the process is also much quicker and more effective than trying to go through the court system.
Labor Peace Brings Peace of Mind
"Our hotel is located at JFK Airport, so it is truly an intersection of travelers. We are very excited to go back to work, but no one wants to get sick. With our new contract, my coworkers and I are relieved that we are now part of a strong union that gives us the right to demand safety on the job," remarked Derek Patrick, a Front Desk Agent at the TWA. "I have been a union member with the Communications Workers of America for 24 years, and now I am also a HTC member. The first thing I thought when we won the contract here is: thank God this building is union ground. It is safer for us and it is safer for the guests."