Who's Got the Power? HTC Celebrates at 2023 Labor Day Parades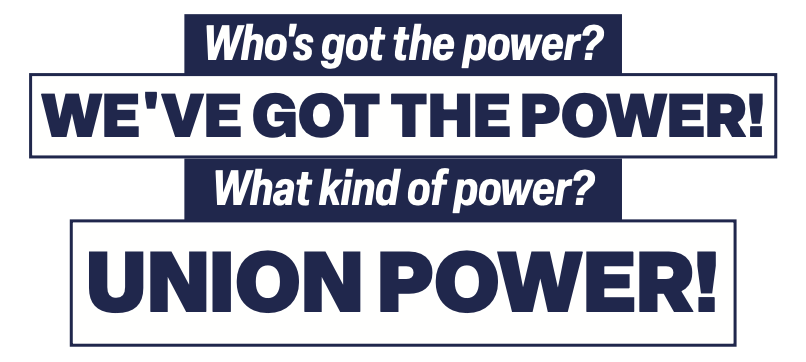 Members made it clear at this year's Labor Day Parades: Nobody does it like HTC!
All year long, we volunteer by rallying for legislation, canvassing neighborhoods to elect pro-union politicians, and marching in solidarity with union workers on strike. But only once a year do we come together just to celebrate union power. On September 9th and 10th, hundreds of HTC members came out with friends and family to march in New Jersey and New York's annual Labor Day Parades.
In Newark, there was live music, popcorn, and speeches from labor leaders preceding the march. Members from across dozens of HTC-represented hotels in New Jersey put on union swag and temporary "UNION STRONG" tattoos. Our chants could be heard from blocks away as we marched up Broad Street.
New York City's festivities featured food made by HTC chefs at the Boathouse, face painters, and two parade floats — one adorned with a statue of Lady Liberty in her Room Attendant uniform, leading us up Fifth Avenue with her golden feather duster. Check out the gallery below!
"Power to the Union! Power to it! We love the Union very much, because without it, I don't know what would have happened to us."

- Gwendolyn Osbourne, Mandarin Oriental
"You wouldn't believe how good of a time I had at the parade, I saw coworkers I had worked with ages ago and it was lovely to catch up and share stories again. Not to mention how good the food was at the end. Whenever I come out to an event with my Union it's always a great enjoyable experience."

- Alfonso Almanzar, Sheraton Edison Raritan Center
"It's us, the members, who are the Union, so it's important to come together like this and make our voice heard. I'm very excited to be here. It's my first parade, but it won't be my last!"

- Afua Boatemaa, Knickerbocker
"Every parade, I'm there. I have to show my support for the Union. Every member should be here. It's the members that make the Union strong. When hundreds of us come out, the City notices, the politicians notice. They see what we're capable of."

- Aissata Bocoum, Wyndham New Yorker
"This is my first union job. I was eager to attend the parade with my 3 kids. Despite the rain, we had a great time and they got to see union power in action for the first time."

- Sofia Ixim Cac, DoubleTree by Hilton Newark Penn Station