Unions unite to elect Bill de Blasio mayor of New York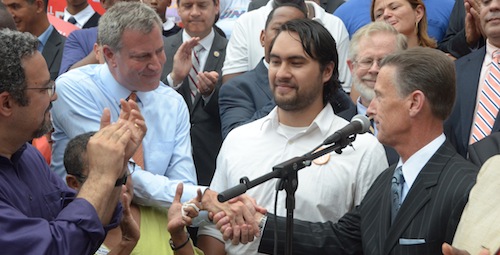 Bill de Blasio thanking Peter Ward for Ward's remarks at the unity rally on September 12.
The results of primary day left our Union with a choice to make. But, as Peter Ward told a special Delegate Assembly meeting on Wednesday, September 11, the choice was not too difficult. The delegates enthusiastically agreed, and the Union is supporting the campaign of Bill de Blasio for Mayor of New York. Other unions are doing the same. In fact, while different unions endorsed different candidates leading up to the primary, almost all of them came together on the steps of Brooklyn's Borough Hall on September 12 to say, "Bill de Blasio's the one!"
It's no secret to members that our own Union endorsed Christine Quinn in the primaries. The reasons behind the endorsement have been well covered in Hotel Voice and in the shops, and our membership worked long and hard on Ms. Quinn's behalf. Now, with the results in, it is up to Bill de Blasio to lead New York in a new direction, and he will have the full support of our Union and all other major unions in the city in electing him Mayor.
"The most recent political chapter has been difficult," Ward told the Assembly Delegates the day after the primary. "A group of unions tried to build a coalition behind one candidate, but were unable to achieve that goal. But I think we are going to achieve it now," he added, to thunderous applause.
Ward also pointed out that our Union had major victories on primary day. As an example, all but two of the Union's endorsed candidates for the City Council won their races, and many of them had faced multiple opponents. The Union was a leader in the stunning victory of Carlos Menchaca, a community activist who defeated a 10-year incumbent in a primary race for the City Council seat representing the Sunset Park and Red Hook sections of Brooklyn. Menchaca will be the first Mexican American elected to the New York City Council and also the first openly gay Council member from Brooklyn.
In another example, the Union only endorsed two candidates for Borough President and both of them won. Melinda Katz won her primary for Queens Borough President and Eric Adams won his contest for Brooklyn Borough President.
There were other victories for the Union this week. Ward recalled that Scott Stringer was originally a candidate for Mayor but that the Union encouraged him to run for Comptroller. Stringer made the switch and the Union endorsed him. When Eliot Spitzer, the former governor of New York who resigned in disgrace, decided to use his family's bankroll to join the Comptroller's race, initial polls did not bode well for Stringer. But hard work by Hotel Trades Council volunteers and other supporters helped put Stringer over the top.
"I can't say enough about the great support I have received from volunteers from the Hotel Trades Council," Stringer said in a rally at 205th Street on Saturday, September 7. "This Union has been with me every step of the way!"
"Scott Stringer's victory is a win for all New Yorkers," Ward told the Delegate Assembly the day after the primary. "After he is voted into office on Election Day he will be an exceptional Comptroller!"
Ward also noted that the Union's endorsed candidate for Public Advocate, Daniel Squadron, received a large enough percentage of votes to qualify for a run-off on October 1. "Squadron has been a great friend of working men and women and we will be working for his victory in the run-off and in the general election," Ward said.
"When we became involved in this election chapter we said we were going to outwork everyone, and we did exactly that," Ward said. "We did everything we said we would because whenever we make a commitment we keep it. All of you should know that Christine Quinn called me late last night after the votes were in and she said that our Union did everything we said we would and more. She was very appreciative, and all of us can take pride in the effort we put in for all the candidates we supported."
Ward said that with the primary over the city was entering a new phase in the determination of its future. "It's time for Bill de Blasio," he said. "I'm tired of the fact that there are hard-working members of our Union who can't afford to live in the city where they work or are distraught over the poor quality of their children's schools. De Blasio can change these things," he added.
Ward said that if members worked hard the City of New York could elect its first Democratic Mayor in 20 years. "What we have done so far in this major election year is great," he said, "but we have more work to do. We have come too far to go back now." The delegates responded to Ward's remarks by enthusiastically endorsing Bill de Blasio.
"Fights often bring out the best in us," Ward concluded. "I think we are about to see the best, as we are determined to do everything we can to elect Bill de Blasio Mayor of New York."
The following day, Ward was joined at a unity rally on the steps of Brooklyn's Borough Hall by other leaders of major unions, as well as community leaders, elected officials and Bill de Blasio himself. It was clear at this event that the traditional Democratic coalition of labor and community groups was beginning to come together to elect de Blasio.
Ward was one of those present who was asked to speak, and he repeated many of the same themes he had voiced before the Delegate Assembly the previous day. He said our Union was solidly behind de Blasio and member volunteers were ready to help elect him Mayor.
Ward was followed by de Blasio himself, and his remarks inspired those in attendance. De Blasio spoke about the insult of the "stop and frisk" policy and repeated his "two cities" theme that focuses on the growing gap between rich and poor in New York. It was the official start of a campaign that many hope will result in the election of the first Democratic Mayor of New York in the last 20 years.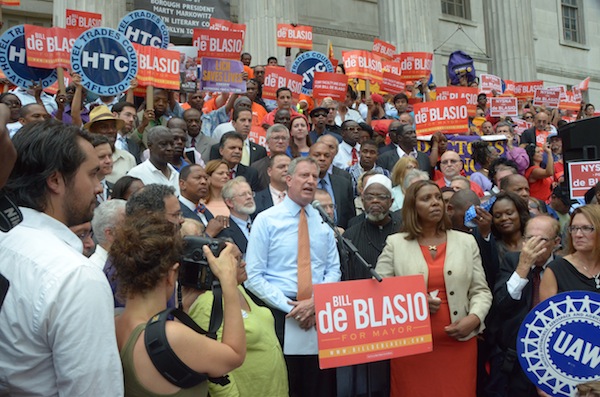 Bill de Blasio speaking at the unity rally in Brooklyn on September 12.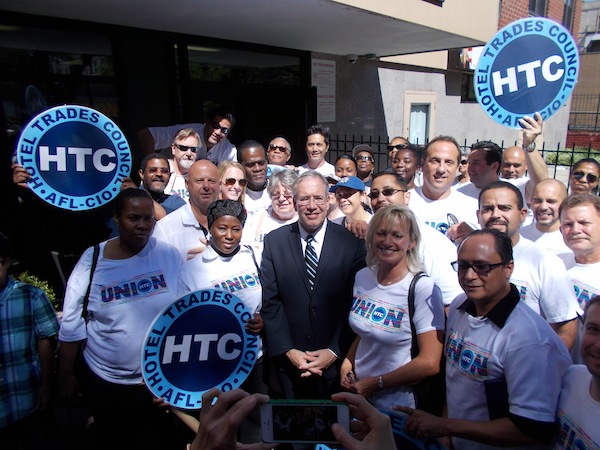 Hotel Trades Council volunteers with Scott Stringer at a rally in upper Manhattan on September 7.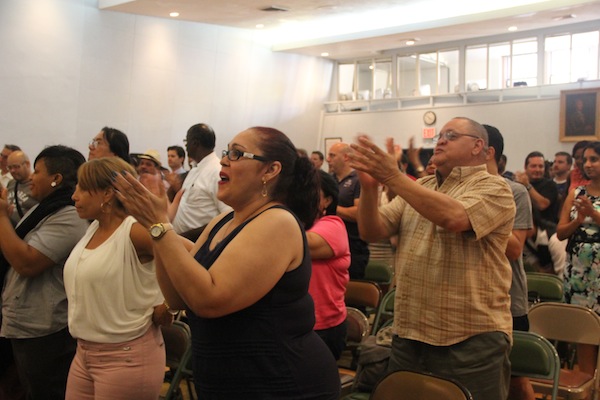 Assembly Delegates endorsing Bill de Blasio for Mayor on September 11.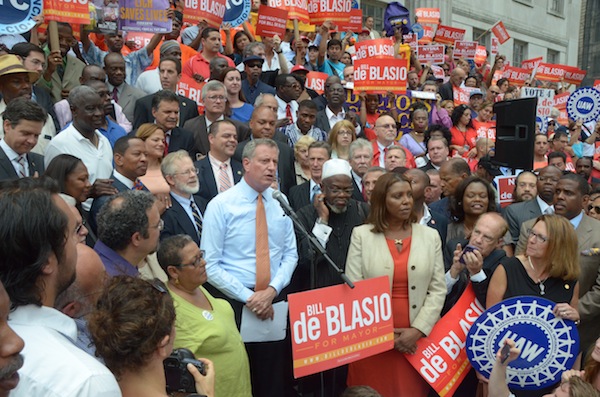 Peter Ward and members at the unity rally to elect Bill de Blasio.