This Week's
---
Union Wins Contract at Westin Jersey City Hotel
Hotel Voice - January 3, 2018

The Union has won a contract for the employees at the Westin Jersey City. The hotel signed on to the Greater Regional Industry Wide Agreement, or GRIWA, which is the HTC contract for the area. The union-represented employees unanimously ratified the contact on December 4th, 2017, by a vote of 75-0. The contract provides for retroactive and guaranteed prospective wage increases over the life of the current GRIWA, and the successor GRIWA, which is currently being negotiated, and greatly reduces the cost of individual and family health care costs to no more than $20 and $25 per month, respectively. The GRIWA further provides stronger job protections against both unjust discipline and changes in management/ownership, stronger scheduling and seniority rights and the contractual assurance to be treated with dignity and respect by management.
"This is the 39th hotel signed onto the GRIWA, with many more in the pipeline", said Executive Vice President and General Counsel Richard Maroko." He added, "As union membership continues to decline across America, our Union continues to grow in historic proportions, to the benefit of the working families in New York and New Jersey."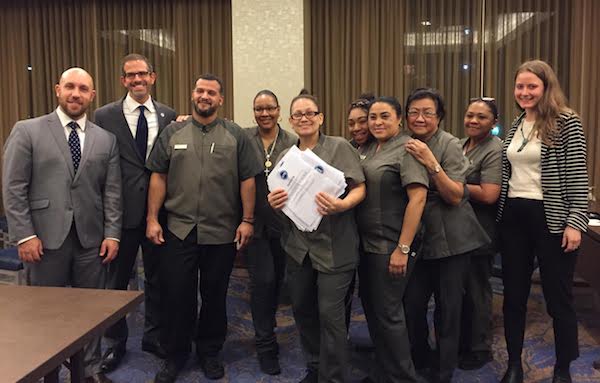 Westin Jersey City Hotel workers celebrating their contract with HTC Grievance Manager Joe Messineo, Executive Vice President and General Counsel Richard Maroko and HEAT Supervisor Sadye Stern.