Union Victory! HTC wins a contract at the Hilton Albany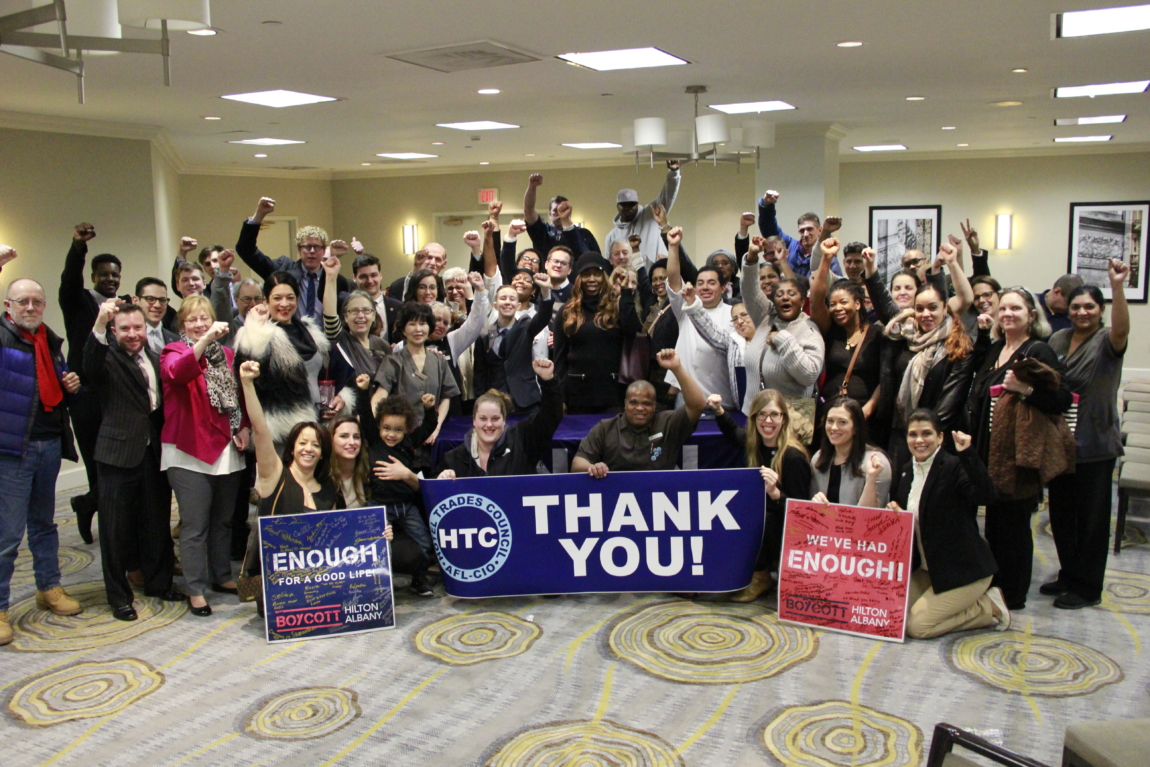 After a four-month long boycott and picket line, HTC has won a contract for the 146 workers at the Hilton Albany hotel. The employees ratified the agreement on January 24, 2018 with 99% in favor. The contract will continue ‪through April 30, 2022.
Management agreed to drop all of its demands for givebacks. Instead, the employees will keep their pension plan, and have won significant wage increases, improvements in health and other benefits, and additional rights and protections including new anti-discrimination provisions and the installation of a "panic button" system which will protect the safety of employees from harassment and assault.
HTC committed all its resources to win this fight. Our organizing team and business agents tirelessly maintained a daily picket line in front of the hotel. Our political department won incredible support from the overwhelming majority of state and local politicians, both Republican and Democratic, including Governor Cuomo and Albany Mayor Kathy Sheehan. Our boycott team successfully pulled major business from the hotel and launched a media campaign alerting the public to the boycott through websites and ads, billboards, and TV and newspaper coverage. Finally, our team of lawyers fought the Hotel (and won) in the courts, the National Labor Relations Board, and the contract arbitrator.
At the contract ratification Front Desk Agent Shirin Mistry had this to say, "I was on the picket line nearly every day for the past four months. It was worth it."
During this fight our union received the unwavering support of the whole Albany area labor movement and allied organizations.
"Working people have been so beaten down, we have hard time believing we can stand up, fight back and win. Our union's organizers showed us we can," said Cook Tom Miller.
"This boycott worked, and demonstrates that solidarity among fair-minded people can be more than a match for the power of wealth," said HTC President Peter Ward.