Union Secures Protections for Hotel, Casino, Club Workers in the Wake of Supreme Court's Ruling on NY Gun Law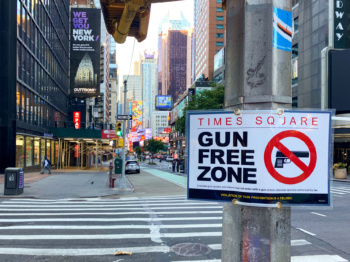 July 5, 2022 4:37 PM
For over 100 years, New York State had strict gun safety laws that severely limited the number of individuals who are able to carry firearms outside of their homes. This changed on June 23rd, when the U.S. Supreme Court invalidated key parts of the State's law, opening the door for virtually anyone to now carry a firearm outside of their home in New York and New Jersey.
The Supreme Court's ruling in the case New York State Rifle & Pistol Association v. Bruen creates serious dangers for our members. "Obviously, it is not safe to allow guests and members of the public to wander into hotels, restaurants, and casinos fully armed," remarked HTC President Rich Maroko. "Now an angry customer at the front desk, across the bar, or on the casino floor isn't just an angry customer – they are potentially an angry customer with a gun."
Immediately following the Court's decision, our Union began working with elected officials and representatives in the hotel and gaming industries to do everything possible to protect our members while at work. On July 1st, the Union both secured protections in New York State law and came to a new agreement with the Hotel Association of New York City addressing firearm safety.
New Gun Safety Legislation
State lawmakers returned to Albany last week to pass new gun safety regulations. Our Union actively worked with Governor Hochul and the State's legislative leaders, Carl Heastie (Speaker of the NY State Assembly) and Andrea Stewart-Cousins (NY State Senate Majority Leader), to ensure that the new legislation did as much as it could under the new limits imposed by the Supreme Court to protect New Yorkers from gun violence.
The new legislation largely prohibits gun possession in subways, schools, public playgrounds, polling locations and other sensitive areas. Our Union pushed for and won special protections for the areas where our members work – casinos, and hotels and clubs that serve alcohol.
Most importantly, we partnered with elected leaders to make sure the new regulations codify the right for private business (like hotels and casinos) to ban guns on premises. This was essential because it is what allowed us to negotiate protections into our master hotel and casino contracts.
New Contractual Protections
On June 28th, the Union brought an industry-wide case against the Hotel Association of New York City claiming that the safety and health provisions in each of our master contracts – the Industry-Wide Agreement (IWA), Greater Regional Industry-Wide Agreement (GRIWA), and the Division A CBA – required the Industry to adopt safety procedures to address the new threat posed by the Supreme Court decision.
After negotiations, the Hotel Association agreed to amend each of those contracts to provide protections from armed individuals. The new agreement, signed on Friday, July 1st, prohibits guests, customers, vendors – basically anyone except for on-duty law enforcement – from coming into HTC represented hotels or casinos with guns. The new agreement also protects members working in New Jersey, whose state gun laws were also impacted by the Supreme Court decision.
Just one week after this disastrous ruling by the Supreme Court, our Union got both ironclad contractual protection and real legislative reform that keep us safe on the job. "It is a remarkable accomplishment," commented President Maroko. "And a testament to the activism and solidarity of our members."