Union Drives Are On the Rise!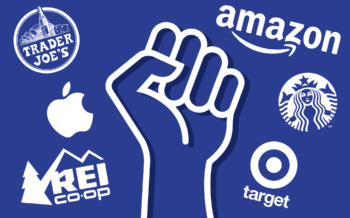 June 13, 2022 11:06 AM
What do Apple, Amazon, Starbucks, Trader Joe's, Target and REI all have in common? Aside from being some of the biggest and best-known brands in the country, workers at each of these companies have all recently moved to organize their shops! During the first half of this fiscal year, union filing petitions with the National Labor Review Board increased by 57%, showing a dramatic increase in the number of workers actively trying to organize and start fighting for their fair share.
This exciting, high-profile new wave of union activity has already resulted in some historic successes. In April, over 2,600 workers at Staten Island Amazon warehouse JFK8 voted to organize as the Amazon Labor Union (ALU) in one of the largest union drives in decades. The workers there faced a brutal union-busting campaign in which Amazon spent over $4.6 million and committed multiple violations of federal labor law. But even one of the most powerful companies in the world with nearly infinite resources couldn't stop the collective action of its workers.
One persuasive force in an organizing drive is hearing firsthand testimony from union members themselves. HTC member Mohamed Turay, a housekeeper at One Brooklyn Bridge, happened to be working as a forklift operator at JFK8 during a temporary pandemic-related layoff. When he caught wind of some coworkers sounding swayed by their employer's expensive anti-union propaganda, he spoke up and told his own story of coming around to recognize the power of a union.
"Once I found out what a union shop was like, I felt that how I was treated during the six years I worked at a non-union shop was inhumane," Mohamed told his co-workers. "When you have a union job you're respected, treated with dignity, and paid good wages and benefits. They're lying to you about unions not being good." Mohamed's experience as an HTC member was enough to convince many of his Amazon colleagues to sign union cards.
Meanwhile, union fervor has spread at Starbucks like wildfire. Dozens of shops have successfully voted to unionize, and hundreds of others are now working to join them despite some brazenly illegal and hostile behavior from management. Apple Store, Trader Joe's, Target, and REI workers have all been similarly inspired and embarked on union drives of their own, demonstrating that workers are by and large becoming increasingly defiant in the face of low wages and poor working conditions.
HTC is inspired and excited by the recent wins of our fellow workers. We congratulate them, but recognize that their battles are far from over. The fight to secure a fair contract has just begun, and these massive corporations can be expected to do everything in their power to wear away at the solidarity of their workers. We encourage the newly organized to stand strong, and know that they will have our support.