We would like to remember all of our Union brothers and sisters who have passed away, their hard work, and inspiring spirits.
To read the complete tributes or notify the Union about a coworker or family member's passing, please visit: hotelworkers.org/tributes

Vera Fedychin

Conrad Midtown
Our Union is greatly saddened to announce the passing of Vera Fedychin, who was a room attendant at the Conrad Midtown and Union member for almost 30 years. Born and raised in Ukraine, Vera moved to the U.S. in the early 90's, determined to create a brighter future for herself and her family, and that's exactly what she did.
Her niece Marta said, "Even though she was on the other side of the world, Vera managed to always stay in touch. She sent us huge packages of gifts, with everything we needed—food, clothes, toys and much more! I looked forward to those packages from Vera like it was Christmas every single time!
Vera helped my family build a new life here in the U.S. in every way she could, and for that I'm forever grateful. After tragically losing her daughter, she went through the most unimaginable kind of pain. But she managed to stay strong, kind, and caring."
Antonina Poushkareva, who worked with Vera for 27 years, said, "Right after I started working at the hotel, Vera took me to see my first broadway show. It made me so happy. She was always bringing food into work for us, baked goods, borscht, stuffed cabbage, delicious things. We used to go upstate and collect mushrooms, because Vera knew which kinds were safe to eat. I would stay overnight at her house sometimes and we would talk all night. She was a very good person, and I loved her."
Vera was also a poet and an amazing skier, a devoted caretaker of many plants, and a loving grandma, who always visited her family with lots of love, freshly cooked meals, and many gifts for the children.
Oksana Novosad, who worked with Vera for almost 30 years, said "Vera was a lovely person. She loved to read—we would exchange books and talk about them. She did not have an easy life, but she always tried to look for beauty anyways. She loved fashion and was very stylish. She was so interesting and enjoyable. We were always laughing with her."
Lucyna Muster, another coworker and dear friend, said, "Vera and I have been close friends for 23 years. Together we have celebrated birthdays and holidays, enjoying each other's friendship. We have enjoyed each other's company in good times and sad times. Vera's warm heart will be missed by many, especially by me."
Vera left an unforgettable mark in the lives of her family and friends and will stay in their memories for as long as they live.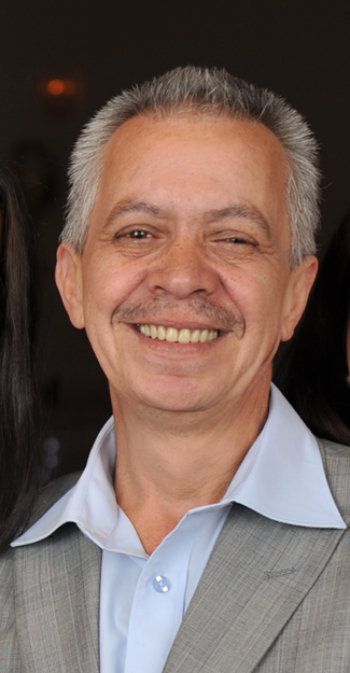 Eliu Irizarry
Thompson Central Park
Our Union is greatly saddened to announce the passing of Eliu Irizarry, who was a houseman at the Thompson Central Park for 41 years and a Union member for 33. Eliu was a treasured grandpa to seven and an amazing husband and father to four. He was an extremely dedicated worker—his daughter Melissa doesn't remember him ever missing a day of work. She also shared, "He was a very giving person. No matter what you were going through, he wouldn't hesitate to give you what you needed. My favorite memory with him was family vacations in Orlando when I was a kid—just hanging out in the pool and having fun with him."
Eliu enjoyed going out with his friends after work and hanging out at home with his family. He like to watch America's Funniest Home Videos and Ridiculousness. In his free time he was a big handyman—he fixed, shellacked, and painted things around the house, helped his niece build a bench and a birdhouse, and even built his own bed. He loved animals, especially birds and birdwatching.
Eliu will be missed greatly by his children, grandchildren Akira, Dorian, Taniaeli, Jacob, Donovan, EJ, and Emma, and his many friends.