This Week's
---
The Story Behind the GRIWA
Hotel Voice - July 1, 2018

Read about the 2018 GRIWA Ratification.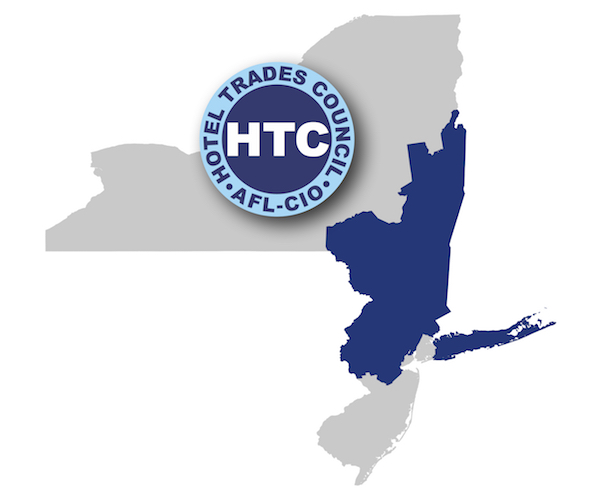 This edition of Hotel Voice is dedicated to the second Greater Regional Industry-Wide Agreement ("GRIWA") the Hotel Trades Council (HTC) has reached with the hotel industry covering Northern New Jersey, the Capital District of New York State, and the suburbs of New York City. This historic successor agreement builds upon the unprecedented initial GRIWA that established a new master contract covering those areas.
When HTC's jurisdiction was expanded in 2010, it inherited hotels with weak contracts, low wages and benefits, and workers who were not impressed by the union representation they were receiving. After several difficult contract fights to improve upon these poor conditions, HTC set out with a plan to imitate the success that HTC has achieved in New York City by organizing more hotels to expand union density and by establishing a new master contract for the region similar to the IWA in New York City.
The first GRIWA, in 2013, only had four initial signatory hotels. But it established the best wage increases in the region, dramatically lowered healthcare costs, and established a new pension plan—the latter of which is unheard of in today's day and age. At a time when the labor movement is under attack from powerful forces, this initial GRIWA was a bold step forward in improving the lives of hotel workers in the region.
To build upon this initial foundation and increase the HTC's ability to continue to raise wages and benefits, the union aggressively began to organize non-union hotels in the area. As veteran members of our union readily understand, higher union density translates into more leverage over the hotel industry. Now, we are happy to say that in 2018 there are 45 hotels under the GRIWA, an eleven-fold increase from the original four in 2013. In addition, there are more than 60 shops outside New York City where HTC represents the employees! This type of wide-scale organizing campaign is virtually unheard of in today's national anti-union climate.
The successor five-year GRIWA celebrated in this edition of Hotel Voice establishes even higher wage increases than the initial agreement. In fact, it virtually matches, dollar for dollar, the annual wage increases that are enjoyed by HTC members covered under the New York City IWA.
The new GRIWA also establishes regional minimum wage rates, i.e., a wage standard for hotel workers across the industry. Pension contributions more than double through the life of the contract, helping to make members' retirements far more secure. Members covered under the industry-wide medical plan will continue to pay just $25 per month for family coverage, while the employers will continue to foot the bill for the remaining cost.
Under the direction of HTC President Peter Ward and Executive Vice President and General Counsel, Rich Maroko, a team of organizers, business agents, and attorneys have been able to make what was originally an ambitious plan come into fruition. This agreement establishes stability and security for hotel workers in the greater New York and New Jersey area and it will continue to be a foundation for the future.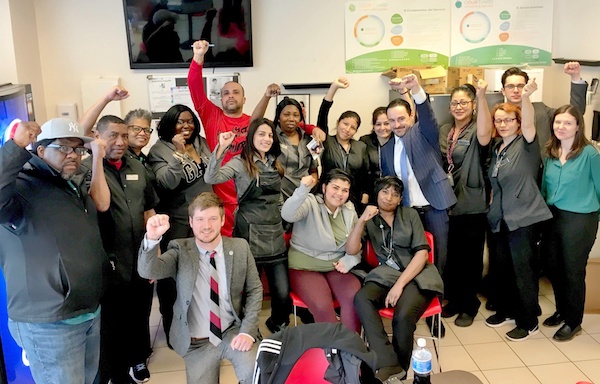 Members and union staff at the Courtyard Newark Downtown celebrating their ratification of the new GRIWA.
Background
The story of this success began in 2010. It was a time when hotel workers in New Jersey, in the Capital District and in New York City's suburbs worked under terrible conditions. They suffered through low wages, few if any benefits and onerous work conditions. Few hotels in the region were unionized, and even in those few, the unions that represented the employees were weak. Fights for good contracts hardly ever occurred. But that changed in 2010, when our union's jurisdiction was expanded beyond New York City and HTC became the union for hotel workers in the region.
As Peter Ward explains in his editorial in this edition, the union designed a strategy to raise the contract standards for members employed outside of New York City. The first step of this plan was to get a master industry-wide contract with language similar to HTC's IWA—the contract enjoyed by members who work in hotels in New York City. This was hardly an easy task, because the contracts HTC inherited in 2010 were cheap, one-side agreements that had vastly different terms and totally disparate expiration dates. The contracts had low wages, sporadic and measly wage increases, and, in many cases, health insurance that was simply unaffordable because of high co-pays, deductibles and/or employee contributions. These agreements lacked even the most basic rights our members would expect in New York City, like fair scheduling rules, real health and safety protections and genuine job security safeguards against subcontracting and changes in ownership. They also lacked the fundamental provisions that enables HTC to effectively enforce those rights, such as a strong grievance and arbitration process and reliable union visitation rights.
The union recognized that getting hotels to agree to major contract improvements would be close to impossible if HTC had to negotiate separately with each employer. After all, no hotel would be willing to agree independently to such changes without knowing its competitors would also be covered by the same contract. That is why the union's first goal was winning a master contract.
Another HTC aim was to increase the union's density—i.e., the percentage of union hotels in the region. It is not a coincidence that New York City is the hotel market with the highest union density in the country and, at the same time, has the highest-paid hotel workers anywhere in the world. That's why in inheriting hotel workers outside New York City HTC acted on its strong belief that density equals bargaining power.
Building political power was another important goal. This was accomplished through member education and mobilization in the cities, towns and counties within our newly expanded jurisdiction. HTC knew from experience in New York City that political clout helps the union organize more non-union hotels and win contract fights. Our union's political and strategic affairs department, which had been so successful in educating members and winning the support of New York State and City elected officials, rose to the occasion in Northern New Jersey, the Capital District and the suburbs of New York City. The evidence of this was seen by the extraordinary number of elected officials that signed on to a boycott petition when the union was fighting for a contract at the Albany Hilton and by the turnout of state and local officials at the GRIWA celebration held on April 16 at the Hilton Newark Penn Station.
It was clear that if the union succeeded in gaining a master contract, increasing density and building political power the next step would be the renegotiation of the master contract to make major economic strides for our members in the GRIWA region.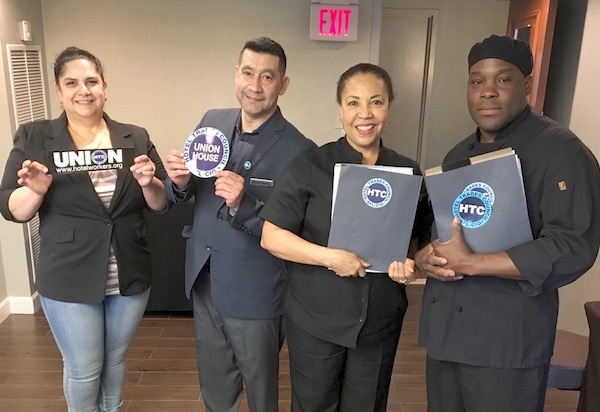 The Renaissance Westchester was one of the four original GRIWA shops in 2013. Among the hotel's union delegates in this photo are Josefa Lazo, who said of the new GRIWA, "I am a very proud union member and I believe this is an excellent contract," and Dwight Lewis, who added, "This long awaited contract is excellent."
The Obstacles
The union knew its plan was extremely ambitious. After all, no other union in any industry in recent decades had created a new master contract like the one HTC was aiming to negotiate. The union knew it would encounter tough resistance from many employers. The union also understood that it would even be difficult to convince our new members in the region to trust HTC and to get on board with the union's strategy because they had been so used to disappointing representation by their old unions. Nevertheless, HTC set out to achieve its objectives and assigned a team of organizers, business agents, and attorneys under the direction of our Union's Vice President and General Counsel, Rich Maroko, to organize the workers and to coordinate our negotiations and contract fights in the region.
The First GRIWA
After three years of extremely hard organizing by that team and wrestling with employers throughout the region, in 2013 HTC signed and ratified its first master contract for the region, which the union named the Greater Regional Industry-Wide Agreement, or GRIWA for short.
The first GRIWA represented tremendous progress for workers in the region. It did far more than simply unite hotels under a single standard contract with one expiration date. It also vastly improved the contractual rights our members enjoyed and hugely increased the union's power to enforce those rights. In fact, the GRIWA contained the best non-economic provisions that are in the New York City IWA and even some that aren't.
For example, the GRIWA contained stronger penalties and provided for more back pay when hotels violated the contract, better protections against discrimination, additional defenses against abusive scheduling changes, more flexibility for employees in their use of paid time off, enhanced protection against discipline, unparalleled guarantees against subcontracting, and unique protection of privacy rights (including a prohibition on drug testing and background checks).
In addition, the first GRIWA also included significant economic improvements. Economically, the first GRIWA surpassed every other suburban union hotel contract in the country. For the first time in memory, employees in the region and their families enjoyed guaranteed health insurance they could afford. The GRIWA also created a new defined benefit pension plan—an achievement so unique in this era of subpar retirement benefits that it was even difficult to find experts who knew how to navigate the regulatory framework to create such a plan.
Growing Our Union in the Region
Immediately after HTC assumed jurisdiction, the union started organizing the non-union hotels in the region. This effort has been enormously successful. In 2010, there were 28 union hotels in the region. Now there are more than 60!
The union also worked hard to organize the existing members in union shops and, one by one, through tough negotiating (and, yes, sometimes labor-management battles), more and more employers were convinced to sign on to the GRIWA. From an initial group of only four shops that were covered by the first GRIWA, in May, 2018 there are 45 shops that are signed on to the GRIWA. When HTC began representing hotels in these markets, union density was at an average of 14%. Now the average density in certain unionized sub-regions is 44%. This stands in stark contrast to stagnant or even declining density in other major northeastern hotel markets.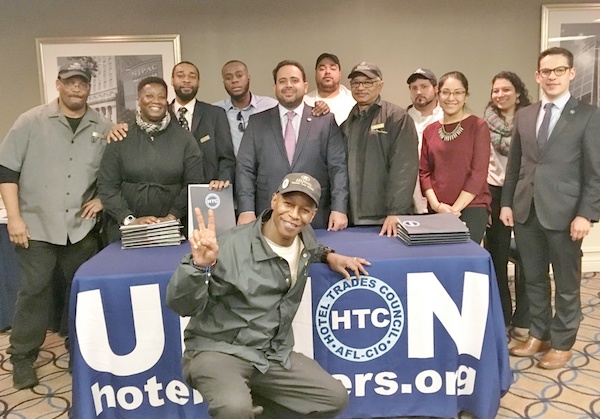 Members at the Hilton Newark Penn Station are joined by HTC Vice President George Padilla in celebrating their ratification of the new GRIWA.
In certain sub-regions (like Newark and Newark Airport; White Plains; Jersey City and Hoboken; the Meadowlands Region; Morristown and Parsippany; and Mahwah), union density is even higher, in some cases as high as 75%. This is not only substantially greater than union density in comparable markets, it is greater than the majority of large northeastern metropolitan cities, including Washington, DC, Philadelphia, and Baltimore!
Building Political Muscle
Throughout this same period, HTC has built political power in the region by activating our membership and engaging with elected officials. This has already paid dividends. As an example, groundbreaking hotel legislation was passed in Secaucus, New Jersey, a city council ordinance regarding consumer notification of picket lines was enacted in Albany, New York, and, of course, hundreds of elected officials have supported our contract fights.
This new GRIWA will help our union build even more political muscle with new contract rights aimed at increasing our members' ability to participate in the political process. These new contract provisions include:
Giving hotel workers four hours of paid voting time three times each year;
Requiring hotels to provide on-site voter registration for all hotel workers; and,
Creating a labor-management cooperation fund that will be able to address issues that are important to hotel workers and the industry.

Members cheering the ratification of the GRIWA.
This New GRIWA
The new GRIWA is the culmination of an exceedingly ambitious plan. In a region where unionized hotel employees used to work under a handful of substandard contracts, they now enjoy peerless rights and benefits under a single master contract covering 45 hotels and providing wages and benefits that would have been unimaginable only a few years ago. The union will continue to sign additional hotels onto the GRIWA.
The new GRIWA ensures that hotel workers in the region are securely in the middle class. It is an excellent five-year deal with wage increases averaging $1.00 per hour every year for non-tipped employees. This is twice the increase of the last GRIWA and the same increase, dollar for dollar, that workers in New York City get. The GRIWA also establishes regional minimum wage rates, with hotels that lag behind catching up over the life of the contract. Under these new minimums, room attendants in regions like Newark, the Hudson River Waterfront and Westchester will earn over $20.00 per hour by the end of the five-year contract. Those in suburban New Jersey and Rockland County will be earning $18.00 per hour by then. Pension contributions more than double over the life of the contract, ensuring hotel workers can retire with security and peace of mind. Healthcare costs for employees who participate in the Industry Plan remain capped at $25 per month for family coverage over the life of the contract, with a new $100 per year reimbursement for medical expenses. The new contract also provides for worker training and industry advancement funds, and new protections against sexual predators in the form of "panic buttons."
Those are only a few of the improvements HTC has won in the new GRIWA. It was ratified by a margin of more than 98%, which can only be described as a resounding show of approval by members who clearly like their new contract and a vote of confidence in the union that represents them—HTC.