The Ribbon Cutting Ceremony at the Brooklyn Health Center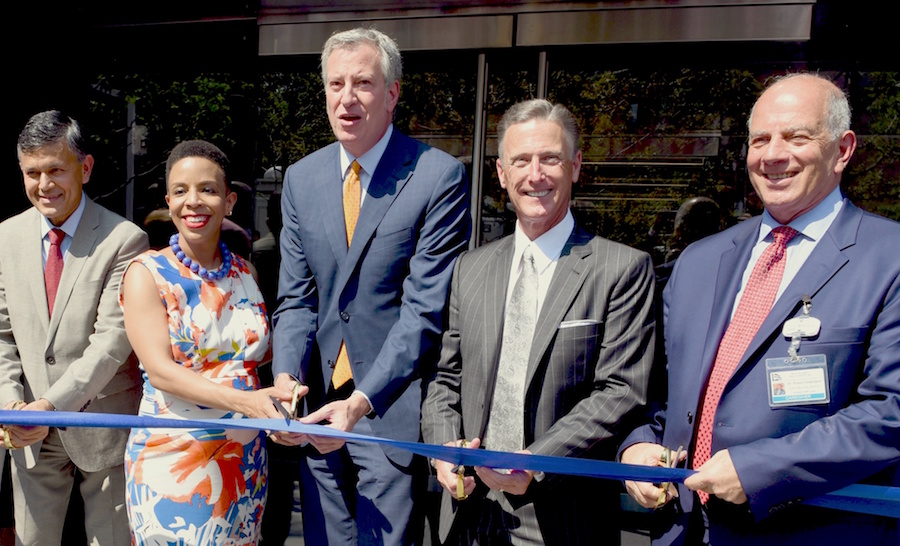 January 29, 2018 3:17 PM
The ribbon cutting ceremony at the Brooklyn Health Center drew many guests, including the Governor of New York State, Andrew Cuomo, and the Mayor of New York City, Bill de Blasio, as well as the City's Comptroller, Scott Stringer, Public Advocate Letitia James and other elected officials. The new Brooklyn Health Center has been praised in a number of publications, not the least of which is the New York Times, which, on the day of the ribbon cutting, reported that the union "has championed a remarkable solution to the national challenge of paying for health care." We present the remarks of Hotel Trades Council President Peter Ward, Hotel Association President Vijay Dandapani, Benefit Funds Chief Executive Officer Dr. Robert Greenspan, Governor Cuomo and Mayor de Blasio.
---
Our Health Fund employs over a thousand people... doctors, nurses, healthcare professionals, clerical people, executives and others. And while I can't possibly name everyone in speaking about the new Brooklyn Health Center I would like to recognize Harry Veras, the Benefit Funds' Chief Financial Officer, who did a great job staying on top of this project. I'd also like to thank Andrew Windsor, Dr. Rick Walquist, who is our Medical Director at Brooklyn, and Dr. Vincent Jarvis, our Benefit Funds' Chief Medical Officer, who does a great job overseeing this facility.
I also want to thank the architect, Francis Caufman, for the attractive design of the building and for working collaboratively with us to get to the point where we are, and Skanska, the construction company that built it.
Most importantly, I thank the members of the building trades unions who were at the Brooklyn Health Center jobsite every day, rain or shine, hot or cold; who dug the hole, put in the foundation, and raised this building from the ground up to make it what it is now. They deserve a lot of credit and I'd like to acknowledge them; they have our sincere thanks.
I would also like to thank some elected officials. Governor Andrew Cuomo, Mayor Bill de Blasio, Comptroller Scott Stringer, Public Advocate Letitia James, City Council Speaker Melissa Mark-Viverito, State Assembly Member Walter Mosley, City Council Member Laurie Cumbo, and State Assembly Member Linda Rosenthal, all of whom have attended our ribbon-cutting ceremony.
Our healthcare system is funded by the hotel industry through a collective bargaining agreement with our union. This system has served workers and their families since 1949, and I want to thank the industry for their enlightened approach, for their partnership with us to make this happen, and mostly for the hundreds of millions of dollars that they pay into this healthcare system to make it work.
I'd like to thank Vijay Dandapani, John Fitzpatrick, Joe Spinnato and George Greene on the management side of this equation, Vincent F. Pitta, the union's counsel, and David Rothfeld, the Hotel Association's counsel, as well as Jim Donovan, Rich Maroko, Vanessa Meade and Julia Rybak.
In 1949 it was inconceivable that hotel workers made up of impoverished immigrants from Europe and African-Americans fleeing the Jim Crow laws of the South could have fringe benefits. But the then leader of this union and the hotel industry began a low level system of benefits. As the healthcare system evolved, our own healthcare system evolved. Today, we now serve 90,000 lives. We have 33,000 members and contributions are made to this benefit fund on their behalf by the employer. That money provides our members and their families with 100% cost-free healthcare with no out-of-pocket expenses or co-pays and this healthcare continues for members and their spouses upon their retirement until death. All of that is done for about 35% less than it would be to purchase healthcare on the open market. The reason for that is that we own, operate and manage everything for ourselves, and our operational ethos is that the patient comes first and primary care is the most important thing, including intervening in someone's life to help them change behavior so that they have better long term healthcare outcomes.
Because we have patients in our health care system for so many years we have conclusively learned that when we concentrate on their healthcare on the front end we not only have better healthcare outcomes we save millions and millions of dollars in the process by reducing catastrophic illnesses.
For these reasons I'm very proud of the new Brooklyn Health Center and very proud that we are part of the rebirth and resurgence of downtown Brooklyn. I am very sure that our members and their families will share in that pride."
Peter Ward
President of the Hotel Trades Council
---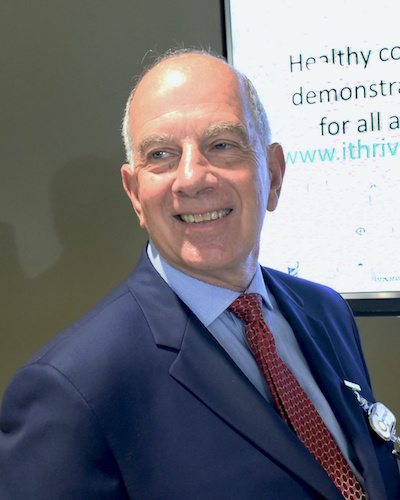 "For 70 years hotel workers and their families have trusted their healthcare to our health centers. The success of this program is due to our history, our governance and our longstanding commitment to excellence and to patient-centered care. The patient is always first; I believe all of our employees believe this and I believe it shows. As our country grapples with an unsustainable rise in health care costs, we at the Benefit Funds are investing in our conviction that our innovative delivery model will continue to be the best health care solution for the next generation of unionized hotel workers. Our new Brooklyn Health Center will focus on wellness, not just responding to illness. Our new building is inviting and it is easy to use. It will be a place that our members come to as part of their normal life, not just when something bad happens to them. I want to thank Peter Ward, Vijay Dandapani and the Trustees for their commitment. I also want to thank my exceptional staff. The new Brooklyn Health Center stands as a shining example of what can be accomplished when labor and management work together. I believe the union and the Hotel Association can both look with pride at the system they have created and know not only that they have done good work but that it is perceived as good by our stakeholders, providers and patients alike, a system of health care in which those who give care can boast about their work, and those who receive that care can feel total trust, confidence, and comfort in the care they are receiving."
Dr. Robert Greenspan
Chief Executive Officer
NY Hotel Trades Council and Hotel Assn. of NY Benefit Funds
---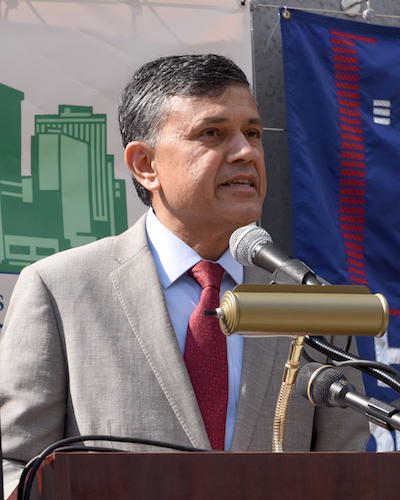 "The new Brooklyn Health Center represents an unparalleled coming together of labor and management to create innovative solutions that have a profoundly positive impact on our thousands of employees. I thank Peter Ward, Dr. Greenspan and all the elected officials who have come to celebrate this opening. I also want to thank my predecessor, Joe Spinnato, for his commitment and dedication to this project."
Vijay Dandapani
President of the Hotel Association of New York City
---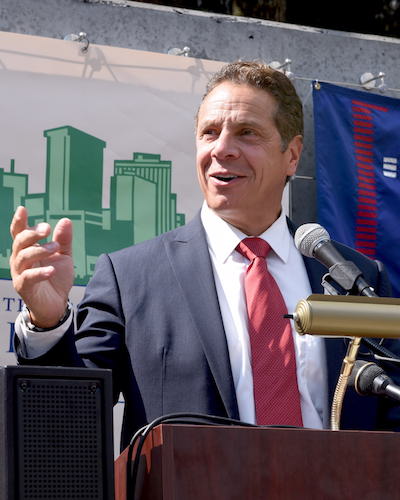 "I'd like to thank you for this warm welcome, but to tell you the truth I'd settle for half the applause that Peter Ward received! I want to congratulate Peter and Dr. Bob Greenspan on this project.
Healthcare in this nation now is a crisis. You've watched the news and heard the debate. People in Washington are trying to decide what to do about it. But what they are really trying to do is figure out what to do for healthcare for working families; for middle class families. Because make no mistake about it, the rich are always going to have the greatest healthcare in the world. What they are trying to decide in Washington is what is the best healthcare for the rest of us. And President Obama said healthcare is a human right and we should all have healthcare. And what this Congress is saying is if you can pay for it that's great but if you can't pay for it we don't want to pay for it on your behalf. And that's really the argument that's going on. They want to cut healthcare funding to the states. What would it do to this state? Seniors wouldn't get healthcare, disabled veterans wouldn't get healthcare and working people would have to pay much more for their healthcare. That's what this discussion is all about.
What there hasn't been enough discussion about is this: what is the way forward? And how do we provide effective, efficient healthcare to working people and their families? That's what the new Brooklyn Health Center is all about. Because this gorgeous facility is an example of the future. This is a model that says we can give working people quality healthcare, a Cadillac of health-care plans. The facility is beautiful. It can care for hotel workers and their families efficiently, economically and, most important of all, effectively. That is an extraordinary accomplishment. This is the first positive thing I have seen in the healthcare field in a long time and I would invite Washington to come up here and look at this facility and this system for a real solution to the healthcare crisis.
I'd like to add one last thing. I know how things get done. Things get done when there is a coalition, when there's a talented staff; but nothing happens without the leadership. This extraordinary facility came about because of vision and drive; and there is only one person who could have gotten this done, and that's my friend, Peter Ward."
Andrew Cuomo
Governor of New York
---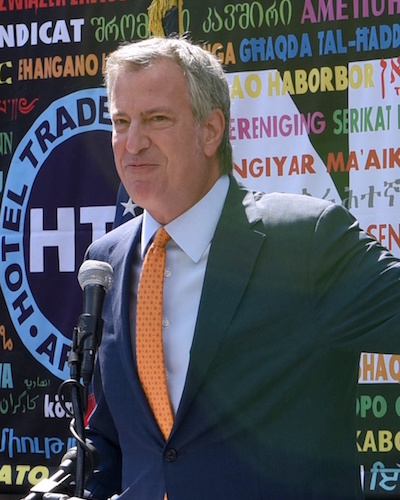 "Let me begin by noting that for some years now the Hotel Trades Council has been at the forefront of progressive change in this city in the most active, focused, energetic and effective way possible. As an example, when we got pre-K for the children of New York City it was largely on the strength of the men and women of the Hotel Trades Council who stood up with us and fought for that change. When we got the most progressive affordable housing legislation in the entire United States of America it was because the Hotel Trades Council led the way on behalf of working people.
And it comes right to the new Brooklyn Health Center, where we are talking about the kind of healthcare facility that once only resided in people's dreams. I walked in the door here and I thought I was in a four-star hotel. And I thought, the minute I walked inside the door, this is what working people have deserved for generations and because of Peter Ward and the Hotel Trades Council they are finally getting what they richly deserve right here in the heart of Brooklyn. Peter Ward is a hard charging guy but look at the results he gets. Peter, you have a lot to be proud of.
I want to thank all the elected officials who have come out in support today because it's not just a testament to Peter Ward and the Hotel Trades Council, it's that this idea of giving working people and their families all the healthcare they need—this is a revolutionary idea. It's an idea whose time has come and I think more and more people across the country are going to try to pick up on this model. By the way, there's dental in there, too—Peter, I don't know how you did that.
So this, right here in Brooklyn, this is what the world should look like. This is what working people should get everywhere. This is what we're fighting for and I have to say what a painful irony that while everything good in healthcare is happening right here in Brooklyn everything bad is happening in Washington. I knew when the Hotel Trades Council said it was going to give its workers the gold standard in healthcare a lot of people said, "No, that's not going to work." But what I love about this union is audacity, vision, and strength. And, Peter, you should be proud because generations of working families are going to benefit from what we have right here in this beautiful facility. Congratulations!"
Bill de Blasio
Mayor of the City of New York