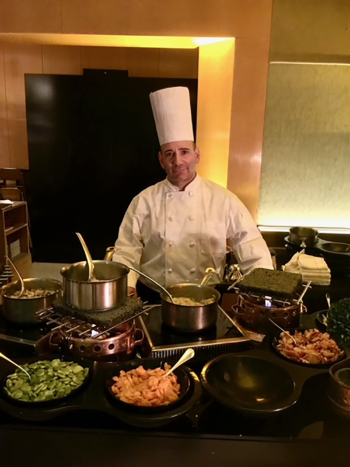 By: Michael Angelo Savino, Park Lane (Previously Four Seasons)

A simple, but elegant dish for summer time, crab cakes are an easy dish for the home chef to wow their guests with. The main flavor of these crab cakes comes from the fresh tarragon marinating in the mayonnaise base overnight.
While most recipes use breadcrumbs, Chef Michael prefers Oyster crackers as they add a more unique flavor to the crab cakes. They are naturally salty so you don't need to add salt. He also opts for lemon zest instead of lemon juice as the natural oils in the zest create a much more potent flavor.
Bon Appetit!
INGREDIENTS
½ gallon jar of Hellman's mayonnaise
5 large bunches of fresh Tarragon leaves, chopped
¾ 2oz bottle tabasco sauce
6 bunches of scallions, sliced thin
3 whole lemons Lemon zest
2 8oz bag of Oyster crackers
2 16oz cans jumbo lump crab(at least 8 crab cakes)
STEPS
Mix mayonnaise, tarragon, tabasco, scallions and lemon zest in a bowl. Allow to rest in the fridge overnight to develop flavors.
Blend the oyster crackers in a blender or food processor until they look like fine bread crumbs.
Drain crab meat and place in a large mixing bowl and add enough of the mayonnaise mixture to moisten the crab meat.
Mix in the oyster cracker crumbs a little at a time. Adding just enough to bind the crab meat and form rounded patties. Coat patties in oyster cracker crumbs to develop a crust.
Heat oil in a sauté pan and brown crab cakes.
Preheat oven to 350 degrees.
Place browned crab cakes on sheet pan and bake for 15 minutes.
Leftover mayonnaise mixture can be used in tuna salad or spread on sandwiches.