Senator Schumer Joins HTC to Celebrate the Partial Reopening of the Brooklyn Health Center!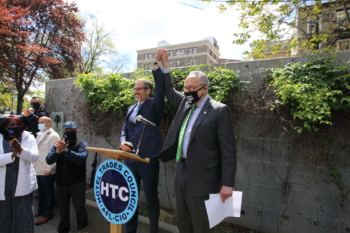 May 17, 2021 12:49 PM
On Monday, May 10, our Union celebrated the partial reopening of the Brooklyn health center alongside New York Senator and Senate Majority Leader Chuck Schumer.
A long time friend and ally of our Union, Senator Schumer successfully negotiated 100%, fully subsidized COBRA as part of the American Rescue Plan earlier this year. The federal legislation has allowed thousands of our laid off members to get their free family healthcare back through September 30th.
With the return of many members to our healthcare plan, the Benefit Funds has been able to begin reopening the Brooklyn health center.
"Normally, when you praise an elected leader, you praise their intentions – what they promise to deliver in the future" HTC President Rich Maroko said as he took the stage on May 10th. "I am going to praise Senator Schumer today, but I am going to praise him for what he has already done for thousands upon thousands of hotel workers."
President Maroko went on to explain, "Senator Schumer has ensured that hotel and gaming workers who lost their jobs because of this pandemic and who are still laid off have enough unemployment income that they can pay the rent and put food on their table. He has made sure that you continue to have healthcare when you need it the most. And in the process, he has helped to save our health centers."
With over 100 HTC members cheering him on, Senator Schumer took the stage next. Senator Schumer congratulated our Union on being able to welcome our members back to the Brooklyn facility and praised HTC's healthcare model.
"My hope and my prayer is that every working person in New York and every working person in America could have the kind of healthcare provided at the Brooklyn health center" exclaimed the Senate Majority Leader.
"Thank you, Chuck!" the crowd chanted back.
Vivienne Morgan, a Housekeeping Supervisor at the Westin Grand Central and HTC member for 40 years spoke for everyone when she said, "With the opening of the Brooklyn health center, I feel incredibly hopeful that New York City and its workers are back on track."