Returning Glory: Midtown Health Center Nurse Helps WWII Veteran Recover Missing Medals
Hotel Voice, Spring 2020
By William Whiteman
Retired union member Private First Class Juan Collazo-Rodriguez comes from a proud military family. His father, Jesus, fought during WWI and his son, Abe, in Vietnam. Serving with the U.S. Army's Puerto Rican 65th Infantry Regiment during WWII, Juan saw action in Italy, France and Germany as part of the fight to defeat fascism. All three Collazo men were fortunate to return home safely from their separate wars.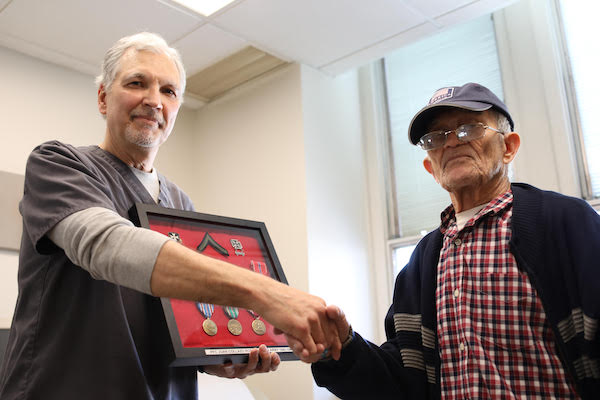 Midtown Health Center Nurse Bob Pisano presenting Juan Colazzo with his WWII medals. Pisano, who is himself a veteran, performs his Magic Bob magician act each year at Kids Days.
Midtown Health Center nurse Bob Pisano first encountered Collazo as a patient 15 years ago and the two got to know each other. "He occasionally wears a veterans hat," says Pisano, "and that sparked my interest." In conversation it came out recently that Collazo's WWII medals had been "lost to time."
Pisano, who delights members' children at Kids Days each year with his Magic Bob magician act, is himself a veteran and couldn't stand to see Collazo deprived of his military honors. Armed with a copy of Collazo's discharge papers he took it upon himself to contact the U.S. Army and requested reissues of the medals.He then presented them to the aging hero at the Manhattan Health Center on December 19th.
Alongside numerous decorations for service and good conduct Collazo was one of seven men who served in the 65th Infantry Regiment during WWII to receive the Bronze Star Medal. As an indicator of Collazo's bravery he was twice decorated with the prestigious military honor.
"We used to flip a coin to see who would go in first whenever we stormed a building," recalls Collazo, who trained as a boxer in his youth, "sometimes I just went in first anyway."
When asked what plans he has for the future, Private First Class Collazo, who will be 100 years old this May, replies, "I mostly want to relax. But if the government asks me to go and fight again, I will do so gladly."