Remembering Roy Broomfield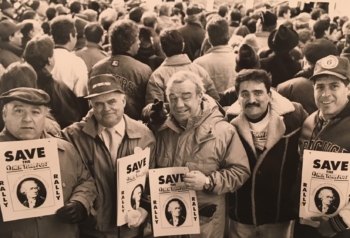 February 1, 2021 3:51 PM
The union is deeply saddened to report that Roy Broomfield, a fixture at HTC and Local 6 for decades, has passed away. Broomfield had spent his retirement in Florida, and passed away in hospice there at the age of 87.
"Our union has the best members and I always believed they deserved the best representation. I always tried as hard as I could to give them that" Broomfield said at a retirement party held for him in March, 1997.
Roy Broomfield began his working life at a young age in his native country, England, as a member of the Merchant Marines. Remarkably, he circumnavigated the globe three times before he had reached the age of 18. He arrived permanently in the U.S. in 1958 and a short time later he went to work as a waiter at the St. Regis Hotel, where he immediately became actively involved in our Union. He later became the union delegate for the waiters, before being promoted to a captain's position. In 1963, he was nominated by his coworkers and appointed as the captains' delegate.
In his position as a delegate, Broomfield was well respected by his co-workers and management alike. As a result of his outstanding performance representing his co-workers, he was asked to join the staff of Local 6 as a Business Agent in 1967. He was diligent in his job performance at the union and his hard work was recognized when he was promoted to the position of Vice President in 1977. In 1981, Broomfield was named as a Regional Director of the Hotel Trades Council. He continued to serve as a Local 6 Vice President until 1994, when he was elected the union's Recording Secretary, a position he held until his decision to retire in 1997.
"Roy brings a wealth of experience and expertise and is well deserving of this appointment," then HTC President Vito Pitta said when Broomfield was appointed Regional Director. "He has always served our members well and we are confident he will continue to do so."
"Roy was extremely helpful to me when I joined the union's staff in 1978, and I have never forgotten that," retired HTC President Peter Ward said. "He deeply cared for our union's members and it showed through his hard work and effective representation. He always displayed the type of caring and commitment that made him popular with members."

"Even though he retired more than 20 years ago Roy Broomfield is a legend at our union's offices," said Local 6 Secretary-Treasurer Vanessa Meade. "His contributions will never be forgotten."
Looking back on his career at Local 6 and HTC at his retirement party in 1997, Roy Broomfield said, "This union doesn't owe me anything. But I owe this union everything. Although I am looking forward to my life as a retiree, I am truly sad to leave this strong union and its great members." It was evident the feeling was mutual, as the party was attended by hundreds of members.
"I could not have asked for a better dad," Roy's daughter, Jennifer remarked after her father passed away. "His passion and dedication in representing members, fighting for the mistreated and seeking justice inspired me to choose the work that I do." Jennifer is a staff attorney at the Bay Area Legal Services Veterans Law Center.
In addition to his beloved daughter, Jennifer, Roy Broomfield leaves behind another cherished daughter, Mary Anne, two sisters, Jenny and Maureen, and three grandchildren, Joshua, Kimberly and Tori, among others. He also leaves behind an uncountable number of Local 6 and HTC members who benefited greatly from his efforts on their behalf. Roy Broomfield will truly be missed.