Peter Ward's Letter to Trump Taj Mahal Strikers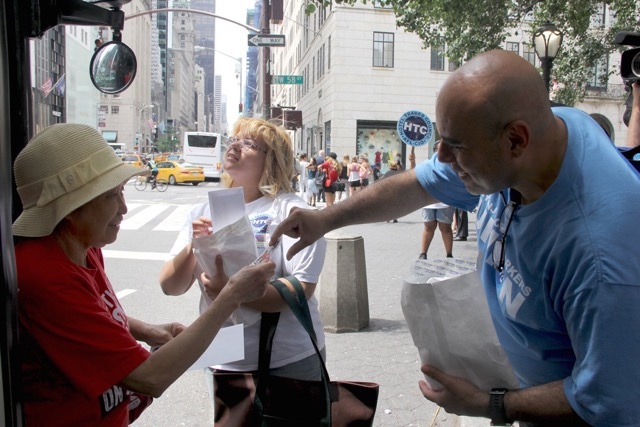 As hundreds of striking Trump Taj Mahal workers arrived in New York City for rallies outside Carl Icahn and Donald Trump's headquarters, Hotel Trades Council members greeted each of them with a personalized solidarity card and the following letter from President Peter Ward:
"To the Taj Mahal strikers and all the members of Local 54 Unite Here,
When I learned that the strike at the Taj Mahal was imminent, I contacted your President, Bob McDevitt, and offered to come to Atlantic City with a team of staff and members from my union to help out when you launched your picket line. It is clear to us that your fight is our fight, and that if Carl Icahn is permitted to eliminate your hard-earned health benefits, other greedy employers of the same ilk will try to do the same thing.
As we walked the picket line with you, we have been deeply inspired by your unity, courage and determination. You should all be very proud, and the members and staff of my union are honored simply to be at your side.  I have no doubt that Local 54 is going to win this strike and preserve its excellent contract. Please know that for the duration of this struggle, the 35,000 members of the Hotel Trades Council will remain with you, 100%.
In Solidarity,
Peter Ward
President

Hotel Trades Council"